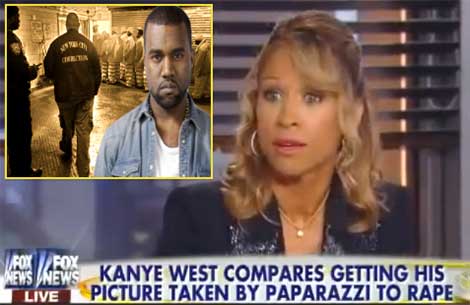 Battle Of The Bimbos?
Stacey Dash, aka The Black Ann Coulter, may have just showed her azz as Fox Snooze's leading token negro. The fallen 'Single Ladies' star just let it be known that she'd gladly send yet another Black man — namely, Kanye West — to the tank! Correct me if I'm wrong, but do we not have one too many Brothers wrongfully locked-up already? Nonetheless, Stacey says Kanye "needs to spend some time on Rikers Island… and then maybe he'll know what rape is."
This one's a toss up, ya'll…. Stacy's comment is in response to Kanye's recent bizarre comparison that having his pic taken by paparazzi is like being raped. Not only is Kanye's statement way out there… rather than setting off a 'Stop the Violence' movement — just days after 82-people were shot in ChiRaq — 14 of them fatally — during July 4th weekend… Chi-Town's Very Own Kanye chose to b*tch over his problem with being photographed in public.
Check out what Kanye said to the crowd:
"Everybody out here likes sex, right. But if one of the people doesn't want to do that, that's called rape. That's called a violation."
Here's Stacey Dash's response to Ye's statement:
"For Kanye to say 'rape'… maybe he needs to spend some time on Rikers Island. You know, go to Rikers for a little while… and then maybe he'll know what rape is.

I don't get celebrities not understanding that the paparraizi are doing their job… I just think that they're not understanding what the business is.

I found that if you're nice… if you're polite to them… they'll leave you alone. It's when you start to call them names… and act crazy… and put your hands up… and do all this drama that they make it a big deal."
http://youtu.be/0Zl0M6DSOUs