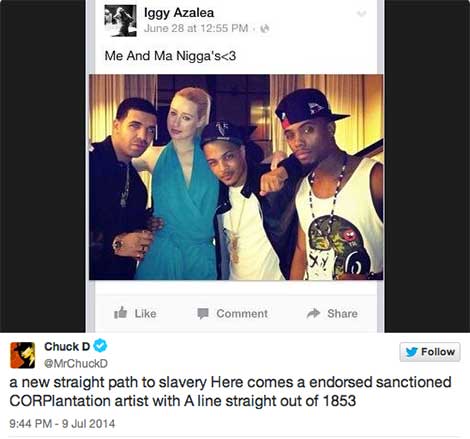 "There is nothing kept secret that will not come to light."
An IG post — suspected to have been made by Iggy Azalea, less than a month ago — has just surfaced. As you can see in the image above… Aussie 'Slave-Master' Azalea is posted up between Drake and Mr. Grand Hustle One and Two — alongside the caption: "Me And Ma Nigga's"
*SIDE NOTE: Any one who hasn't caught on to the pattern surrounding Black Culture yet, is out to lunch*
This begs the question, 'Who's Hustling Who?' I mean the Tip she's on with T.I. has been obvious. If you've seen any of Ms. Slave-Master's radio interviews, and caught a glimpse of the consistent manner which she's video documented to handle Tip, you know exactly what I'm talking about. But Ms. 'First Thing's First I'm The Realest' Fancy-one could now be trying to hustle us all. Know why? Here comes word spreading that's leading many to question the validity of the post. That alone, my friends, has COVER UP written ALL OVER IT. Don't you agree?
So.. Could Aussie soon drop the 'I've Been Hacked' spiel? Time will tell. Time Reveals ALL Truths! But the truth that Aussie's already self-revealed is her Slave-Master state of mind, has she not? Chuck D has weighed in saying pretty much just that!
Check it:

Q-Tip weighed in too.
Let's go!