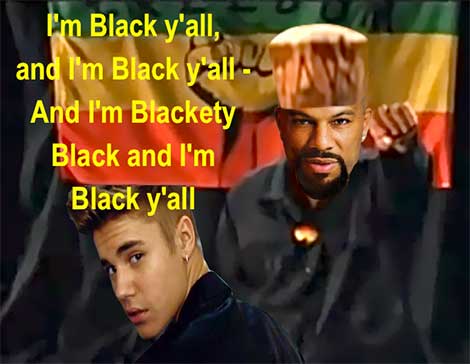 "He obviously gravitated towards black culture. So, he has to have a certain amount of respect for it." -Common
Common is the lasted rapper to excuse Justin Bieber and his despicable racist rhymes and remarks towards Black people. But this could be the weakest pass Bieber's collected to date. That's because Common appears to be pulling a pitiful attempt at playing both sides of the fence — with the Culture on one side and the Industry on the other.
Buss this… Common is actually claiming he hasn't seen the footage of Bieber bangin' on Black people.. ever! Really? Common says he's basing his Bieber pass soley on "the feedback" he got from the tapes.
Here's the spiel that Common's spilling:
"Instead of lashing out on J. Biebs, Common gave the pop icon a pass for not knowing any better during his teenage years. I know how much Justin Bieber is–like he respects black culture. He surrounds himself with black people. So, I don't think it was something that–To be honest I never even seen the tapes, but I got the feedback of it.

But I don't think it's something that he was saying wholeheartedly to demean a black person. From what I–I didn't see the tape, but from what I pick up I don't think he–And if he did, he was in a place where he just didn't know. Like he must have been raised in a place where he just didn't know. Cause he obviously gravitated towards black culture. So, he has to have a certain amount of respect for it. For you to be a part of it and want to be a part of it."