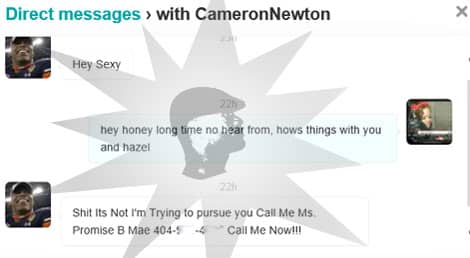 Prowling Panther?
HSK Exclusive – We've landed proof of one Carolina Panther caught on the prowl! We're talking about Cameron Newton, who's engaged to fiancee 'Hazel'.
The 24-year-old NFL quarterback recently used Twitter to hook-up with a Sacramento women, supplying 'Promise B Mae' with his phone number — while denying his relationship with his reported soon-to-be wife.
"After he sent the DM on Twitter he later unfollowed her on Twitter, trying to be slick. I swear guys are so lame."
Now, it appears dude is following his 'on to the next' pattern of apparent womanizing. That's because we're told Cameron Newton dumped baby momma Natalian Carr, for former Washington DC 'Stadium Club' stripper 'Hazel'.
Here's the drop:
"Cam is a cheating ass dude. He cheated on Natalian and he's now cheating on Hazel. Once a cheater, always a cheater."