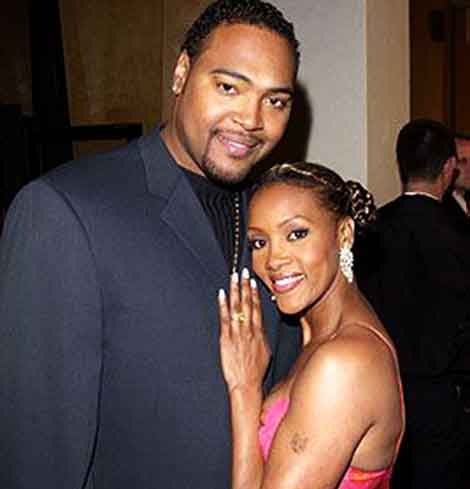 HSK Exclusive – She may have starred in Hollywood blockbusters like "Independence Day", but her acting career sadly came to a complete halt.
Hollywood insiders say that's because Vivica Fox put all her energy (and resources) into her failed relationship. Now, it's apparent Vivica Fox's 'Stand By Your Man' values were less than reciprocated by the actress' ex-husband, Christopher "Sixx-Nine" Harvest.
Sources say that's exactly why Fox's career didn't make it to the next level. Don't believe me.. Ask Vivica's best friend Gabrielle Union.
Here's the on tea on Vivca Fox throwing her career away on a man who ended up cheating on her:
"Vivica could have been a bigger star than Halle Berry, she had major opportunities. She was supposed to be a A-list actress, but she made bad choices.

After doing big movies like 'Independence Day', Vivica should have hired a major PR firm like Halle Berry did, but Vivica was too cheap. She'd rather play house with her boy toy Sixx-Nine, she put most of her money into Sixx-Nine's career. She even bought a big ass house on the Mulholland Estates, to play house with him.

She tricked off a lot of money on Sixx-Nine, he ended up cheating on her and she kicked him out. Vivica lost a lot of money while messing with dude. After that relationship with Sixx-Nine, she had to downsize. She went from 'Kill Bill', to How can I pay the bills?

Vivica did all those bullshit movies like 'Two Can Play The Game ' and 'Juwanna Mann' because she was trying to get back all the paper she lost during her marriage to Sixx-Nine. Vivica f*cked up when she did those low budget movies, because she ruined her brand."
Is Vivica Fox a cougar who likes to trick on younger men? Of course she is. Don't believe me.. Ask her ex-boy toy Omar "Slim" White.