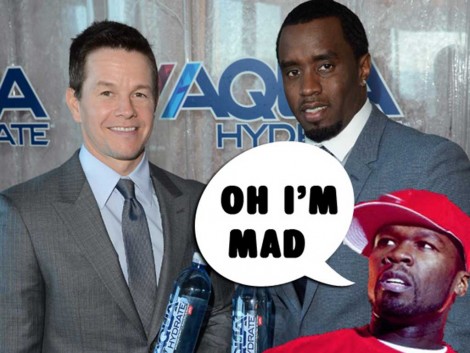 HSK Exclusive If there's anyone who objects to the recent reconciliation of 50 Cent and Floyd Mayweather, it seems like Puffy Daddy does! That's because Mr. Bad Boy himself has been called out for banning Fif from his May 2nd after-fight party at Sin City's Tropicana.
"Anybody who's a somebody in Vegas will be at Puffy's after-fight party… and everybody will be drinking Ciroc and Ciroc only!"
Though he may not be reppin' errythang Mayweather, that doesn't mean Puffy's puttin' his money on Mayweather. Just ask Mark Wahlberg, whose got $250,000 on PacMan winning the fight. So, how did Wahlberg decide the number he'd wager? Simple … Puff bet that very amount on Mayweather!
Dig the Drop:
"50 Cent will be in Vegas May 2nd to support his BFF Floyd Mayweather. The problem is that he won't be welcome at the hottest party in town, held by his enemy Puff Daddy.

Fiddy is going be in Floyd's hotel room, watching Mayweather count money.
Meanwhile everybody will be partying with Puff at the Tropicana."