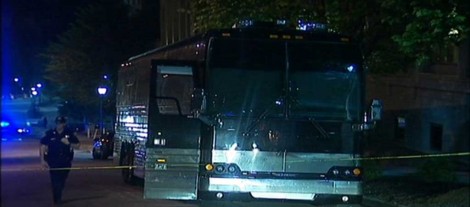 "My moneys on Weezy being murdered before the end of the year. We'll know who ordered it too".
Two tour buses carrying Wayne and his entourage came under fire early Sunday in Georgia, word is that luckily, no one was injured.
The Atlanta Journal-Constitution newspaper reported that the shooting by unknown assailants occurred in Cobb County, near Atlanta, around 3:30 am, after the rapper completed a performance at an area night club.
Police determined that two tour buses used by Lil Wayne and his crew had been shot multiple times. Officials said the two buses were carrying a total of about a dozen passengers at the time of the shooting.
"Witnesses could only provide a limited description of the suspect vehicles," Cobb County Police spokeswoman Elizabeth Espy told the newspaper.
"They were described as two white vehicles, possibly a Corvette-style vehicle and an SUV."