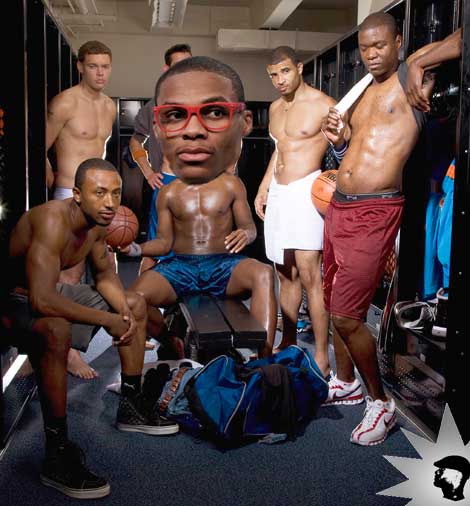 Bisexual Baller Busted?
HSK Exclusive – It's official! We can all now take Russell Westbrook's choice in flamboyant fashion at face value. That's because the Oklahoma City Thunder point guards' self-noted ex-beard has revealed the NBA baller is a bisexual man.
The woman – who chooses to remain unnamed – exclusively tells HSK Westbrook's secret boyfriend lives in Oklahoma City, and travels with the OKC entourage when the team plays away from home.
According to our source, Westbrook and his boyfriend recently upped their boy-bond to the next level after spending extensive time together at this year's Houston All Star event. That's the situation we're told led Westbrook's ex-beard to become jealous, sparking her to dump the pro-basketball player.
Here's what Russell Westbrook's ex-beard had to say:
"I don't know Russell's boyfriend's name, but they're always together.
When we all stayed at the Four Seasons, his boyfriend's room was on the same floor as his. My room was on a separate floor.

Russell used me as a beard, and part of my job was to get him and his boy Molly pills."