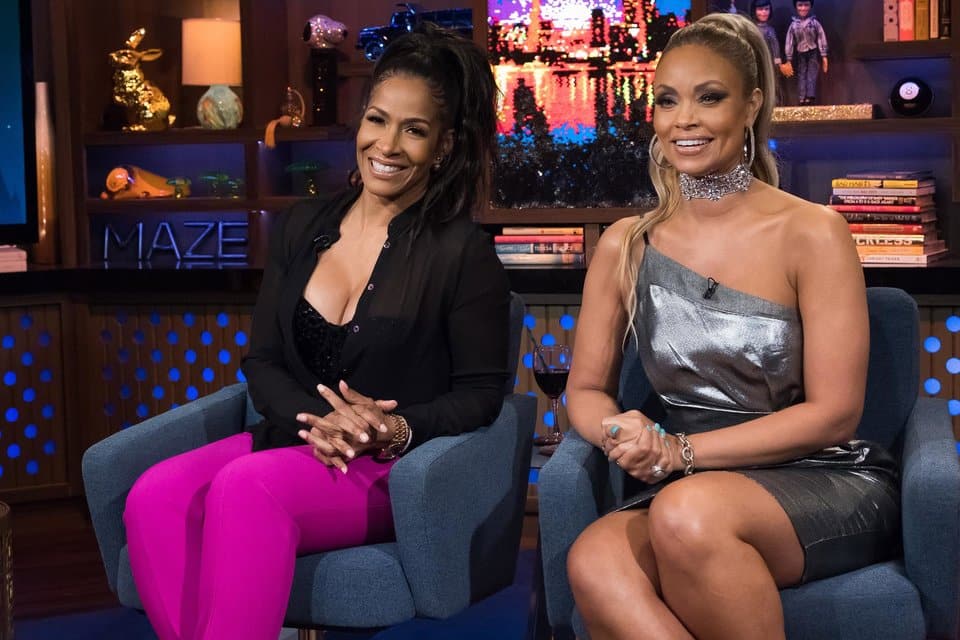 Sheree Whitfield of The Real Housewives of Atlanta, along with Real Housewives of Potomac star, Gizelle Bryant joined Andy Cohen in the Watch What Happens clubhouse. Sheree's son, Kairo, tended the bar.
Andy played some of Gizelle's shadiest moments from the first two episodes of this season. Then he asked what she thought of Robyn Dixon talking behind her back. Robyn thought that Gizelle was more at fault than Charrisse Jordan.
"Actually, Robyn and I had already talked about it. And Karen was being extra messy like Karen likes to do, but I'm a friend to Robyn. And if she wants to state her opinion, that's okay."
Sheree held her housewarming party in the RHOA finale. After five years, she finally finished it. Sort of. The basement still wasn't finished, but she's mostly accomplished her mission.
In a flash poll, the fans decided that they'd rather live in the Chateau at 85%.
Kenya Moore tweeted tonight about Sheree's lack of kitchen appliances at her housewarming. Sheree said:
"Her house wasn't finished either. And she went into my basement. I didn't go into her one-room basement that was incomplete when I got there either. They said 'don't go over there' so I didn't."
On the finale, Kandi Burruss and Phaedra Parks didn't make up. In fact, Phaedra said she'd never be right with Kandi. The viewers came down on Kandi's side at 78%.
Gizelle isn't friendly to the new girls who join her group. A fan wondered if she were insecure.
"No. That day I wasn't ready to meet somebody new. I was still going through Charrisse-gate. And she's Charrisse's friend, so she got shade by association."
Then Gizelle gave her opinion of the newest Housewife, Monique Samuels.
"Monique talks a lot. She's a very pretty girl. Sometimes when she's talking, I'm never listening, but it's a work in progress."
The RHOA reunion starts next week and we got a sneak peek. Kandi doesn't believe Porsha Williams was really going to anger management. When Porsha starts squawking about not getting support from the other women, Kandi says she's always supported Porsha. In fact, she just donated $5000 to a Porsha's charity. Porsha then says that her silence couldn't be bought.
When a caller asked about Phaedra's divorce, Andy admitted that Phaedra brought a document to the reunion. He said it was "interesting."
Another caller wanted to know if Karen Huber was downsizing or having money problems. Gizelle said:
"I cannot speak for the bank account of the black Bill Gates. I would never do that."
Andy pointed out that Karen's move becomes a major storyline later in the season.
Kairo got his share of fan love. By the way, he's single and he doesn't have a type. He's attending Morehouse College and plays basketball.
Sheree didn't invite Bob to the housewarming. She said it was her night and she didn't want any drama or negativity.
Andy asked Gizelle if she liked Charrisse's interview look this year, she said:
"I like it. I like it better than the wig she had last year."
Andy had to stop and laugh at the shade.
Another viewer wondered why Kenya gave Sheree so much grief at her party tonight.
"She's just evil. She's miserable, and that day…I didn't want to kick her out or anything."
Andy pointed out that Sheree was pretty scathing in her comments about Kenya's new house.
"I did not go in places where I wasn't supposed to go. And there was [sic] plenty of places that were not finished."