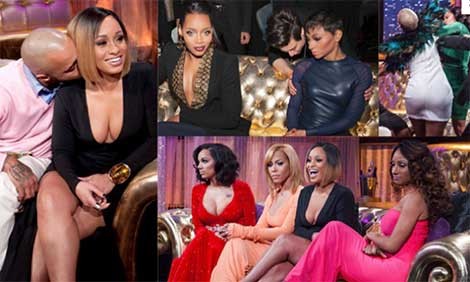 Insider word exclusively leaked to HSK reveals Erica Mena may have been on point with her decision to not show up for taping of the Love & Hip Hop New York Reunion show. Know wny? We've learned that Mena's arch enemy, Jhonni Blaze, took the turnt factor to the ultimate level when she reportedly attacked a cameraman AND tried steppin' to Diamond Strawberry's moms!
Dig this drop:
"Jhonni Blaze gets into a fight with Diamond Strawberry's mother Lisa and threw a studded ring at her. Security ended up holding Jhonni Blaze back from getting into a fight with Diamond Strawberry. Jhonni Blaze was removed from the stage and on her way out she attacked a cameraman."
That's just a taste of what went down during the LHHNY Reunion, set to air on April 6th. And guess what? With details about Peter Gunz and Amina Buddafly's break-up being spilled our way, Jhonni Blaze's ratchet factor is small potatoes. Especially since we're working on getting an audio tape of Amina Buddafly speaking (in German) with her real boyfriend, revealing that she's been plotting to gain American status from the jump … and may have used Peter Gunz for nothing more than a tool to gain it!!!
Check the LHHNY drop:
"Chink Santana and Chrissy Monroe broke up and she plans to expose him in the future after the show airs.

Erica Mena didn't show up to the L&HHNY Reunion show, but she did her interview with Mona Scott Young at a safe distance from her former cast members."