The Raydiation Recordings: HSK Hit W/ 'Cease & Desist', Jacky Exposes Kim K's Funky Cat & Ray J's Secret Marriage With Kid!!!
HSK Exclusive — Ray J was obviously not lying when he spilled the rotten beans about Kim K's crusty coochie…Just ask Reggie Bush.
Here's the thing, that stank kat could be a va-jay-jay of venomous proportion! Know why? The funky fumes have apparently caused an off-the-richtor-scale rupture — leading two dawgs to start chasing their tails, trying to displace Jacky Jasper and HSK with an order to "cease and desist" from telling you all about it!
"Your actions are a blatant display of disrespect and can only serve to destroy the reputations and change that these men are working to accomplish."
Furthermore, neither Jacky nor "someone from" HSK are responsible for telling you … Ray J did that. We are merely the delivery platform. Don't you agree?
Back to the audio … the dude Ray J was leaking the info to, is now speaking out as a former Ray J mentor, who's now trying to muscle HSK.
Here's what Jacky has to say about it:
"This guy Max Billieon is on one! Can you believe this fool actually asked me to apologize to him and Ray J? Guess what? Just for that, I'm servin' up even more. Did ya'll know that Ray is married with a wife and kid!?"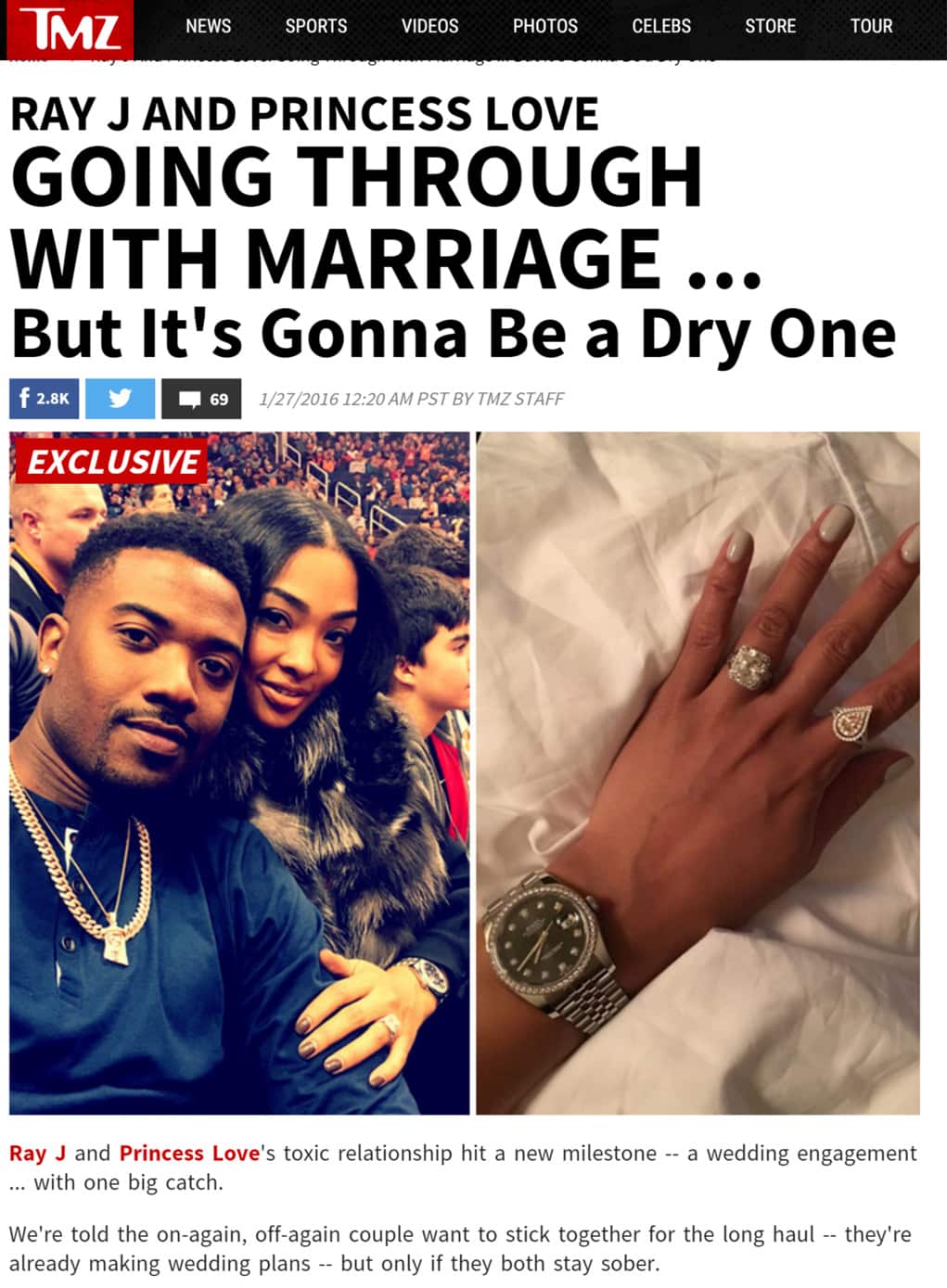 Ray J told it first! Transcribed from the audio:
"Listen … I'm on some Hugh Hefner shyt, all these bitches know what's up. I got some bread. I got a wife at home. All I wanna do is buss a nut.

Right, and something else.

And something else? Of course. I don't wanna buss a nut in my wife. I seen my wife have a baby, a baby came out of her p*ssy. I don't wanna that p*ssy no more. I seen a whole human being come out of that p*ssy … water, and all kind of shyt followed … all kind of weird shyt followed out of that p*ssy. I'm not eating that p*ssy not more. Of course I love my girl. That's my pillowcase. I can't wait to get home, watch TV, watch CNN, talk shyt with my wife … be raggedy and fart … just be her husband …

Yeah. I don't want to get wild and freaky n shyt … where we turn on a porno and get loose … no, I'm not feeling you like that. You're my wife!"
Is Ray J really going to marry Princess Love? I don't think so. Know why? It's just another Hollywood tale, concocted for publicity purposes.
On another note, be sure to check back in Friday for another HSK EXCLUSIVE Ray J shocker!