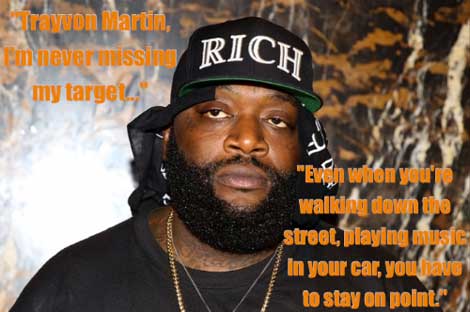 "I'm OVER this u disrespectful b***. Rick Ross is a disgrace an embarrassment. Stp making trash n calling it music."
When it comes to attempting to profit off the names of slain Black teens, there doesn't seem to be much separating Rapper 'Rick Ross' from Trayvon Martin's killer. Mr. Maybach Music, a former Florida state correctional officer, seems to think disgracefully dropping the name of the late Trayvon Martin in his song — and eluding to Jordan Davis not being "on point" in his pitiful apology — is copacetic.
"His public statement to explain the lyrics only made matters worse when he brought another Florida teen
who was gunned down, Jordan Davis, into the mix."
This isn't a first for Rapper Rick Ross. Back in July 2013 — about two-weeks after Zimmerman was acquitted in the murder trial surrounding Trayvon's shooting death — the shameless rapper released solo track "I Wonder Why", featuring "creepy ass cracker" testimony in the song. That was about three-months after Rapper Rick Ross issued an April 2013 apology for his pro-date rape lyrics in the track 'U.E.O.N.O'. Now, Mr. Maybach is saying he's sorry.. yet again!
"In new song "Black and White," Ross rhymes, "Forbes dot com, I'm the Teflon Don/ Too close to a n—a as a motherf*cking bomb/Trayvon Martin, …I'm never missing my target/Bitch n—as hating, tell me it's what I'm parking."
Here's Rapper Rick Ross' ignorant statement:
"It's so important that today, on the two-year anniversary of the death of Trayvon Martin, we never forget that tragedy. I'm never going to let the world forget that name. In my song 'Black and White' off Mastermind I say, 'Trayvon Martin, I'm never missing my target.' There I'm reminding people that if you're a black person or a person of any color for that matter in this country, you have to be accurate, whatever moves you make, stay accurate. Even when you're walking down the street, playing music from your car, you have to stay on point.

Black men are being killed and their killers [are] beating the trial. It hasn't been this much violence against black men since the '60s. I am Trayvon Martin, we're all Trayvon Martin. He was from South Florida. That could have been me or one of my homies. So, stay alert and never miss your target. Whatever that target may be. Getting out the hood, providing from your family. Stay sharp. Stay alive. Trayvon, Rest in Peace."
Did William 'Rick Ross' Roberts previously sample witness testimony audio from the murder trial against Trayvon Martin's killer? Of course! Just ask Rachel Jeantel.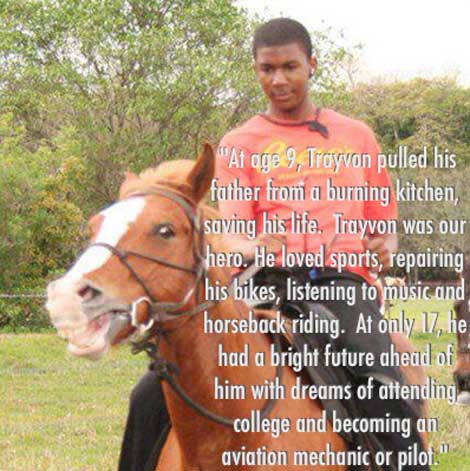 http://trayvonmartinfoundation.org/