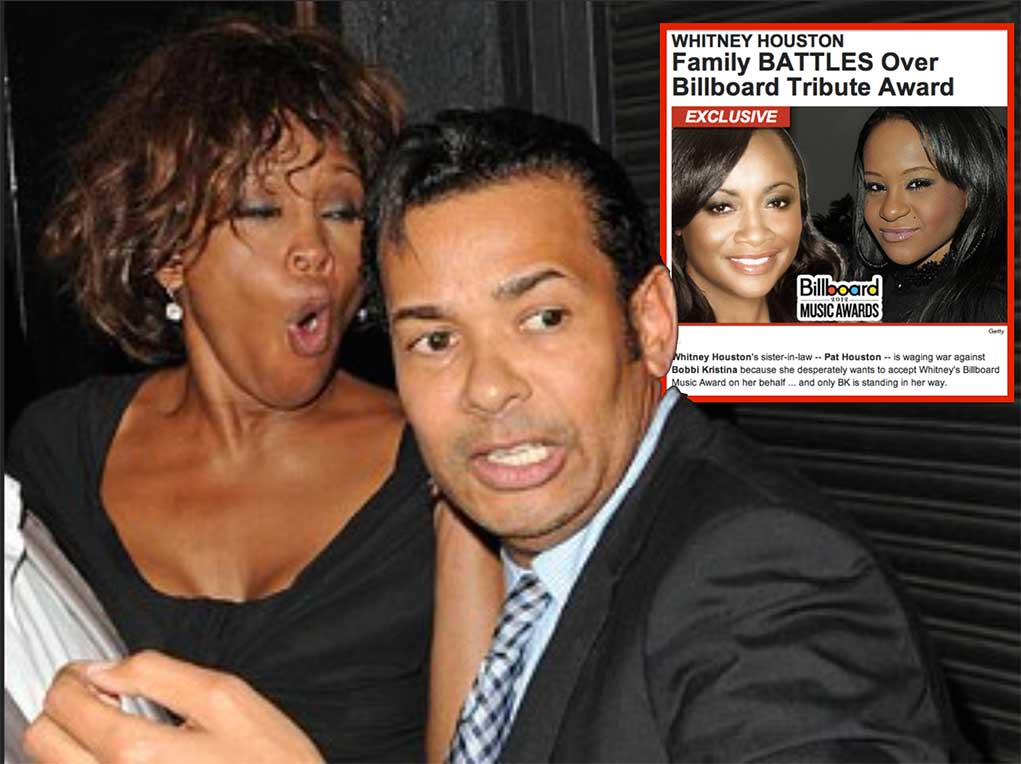 HSK Exclusive – The Houstons can't seem to shake notorious international con-man Raffles van Exel, who is suspected to be the person responsible for "shopping pictures of Bobbi Kristina laying in an Atlanta-area hospice bed." BUT, PEEP THIS: From what we're told, Bobbi Kristina's loved ones might want to consider investigating how a man, notoriously known to be a leading Hollywood "hanger-on", was able to catch yet ANOTHER ride on their coattails! Know why? Insider word reveals Raffles van Exel is "working with a family member … it's NOT any Brown". The source adds, though Raffles van Exel may have shopped the "deathbed" pics, he's NOT the one who snapped them! Just ask Pat Houston!
"I WILL MAKE SURE THAT ANYONE WHO CAME ANYWHERE NEAR BOBBI KRISS – INCLUDING MYSELF TAKE A LIE DETECTOR TEST! OH YEAH! WE GON GET TO THE BOTTOM OF THIS! IT AINT OVER! EVERY ONE OF YOU ALL WILL TAKE A LIE DETECTOR TEST!! AND NOT BY YOUR PEOPLE EITHER! YOU AINT GON BE ABLE TO PAY PEOPLE OFF ON THIS ONE!" – Leolah Brown, Bobbi Kristina Brown's Aunt
According to recent reports from various media outlets "the photos successfully sold … to The National Enquirer." Sources say the "seller's asking price was over $100,000." This wouldn't be a first trip to the rodeo for Raffles and his Houston-enabler. Let's take it back to March 2012, when HSK brought you exclusive reports from a source who put the Houstons on blast for apparently turning the other cheek away from the image of Whitney as she lay in her casket! "They didn't do anything about it," said the source. "How come they haven't gotten him out of their circle?" Bobbi Kristina's Aunt Leolah Brown has since called out all culprits!
"YOU will not do to my niece what YOU did to Whitney! Everyone knows who YOU ARE!"
GUESS WHAT? Don't think for one moment that there isn't a media outlet out there that doesn't know exactly what Leolah is talking about!
Dig the Drop:
"Raffles has been a source to TMZ for years now. That's why they gave Raffles the picture of a dying Bobbi Kristina to sell to the press. Raffles has been a fall guy for some members to the Houston family and he doesn't care because he's getting paid."
Leolah Brown put this word out there:
"I'll tell you what! You took that picture thinking you gon get some money for it…and thats gon be it! …guess what!????!!!! I will myself if no one else does-see to it that -YOU be revealed!!!!
YOU will not do to my niece what YOU did to Whitney! Everyone knows who YOU ARE! Aint nobody stupid! And no matter how much you keep that ugly smile on your ugly and evil face-and try to make the world THINK your hands are clean…YOU WILL BE EXPOSED!"
Written By: Michele Fralick, Entertainment Journalist