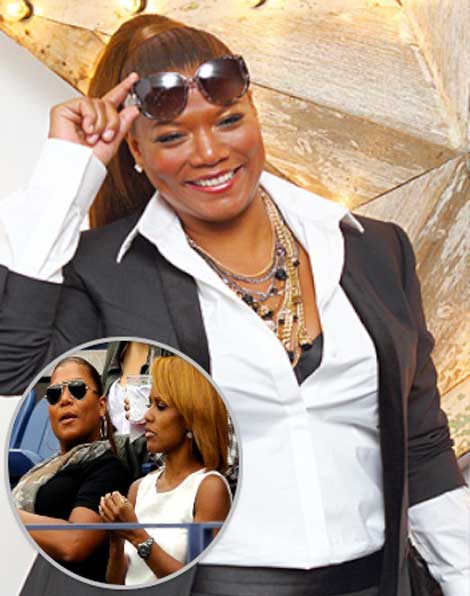 Better Late That Never!
It's no secret — Latifah's been hiding her homosexuality in Hip Hop for years! Now, nearly a quarter of a century since releasing her first album, the Queen is Hyped up to finally let the world know she's a lesbian. Don't believe me.. Just ask Latifah's homey, Robin Roberts, who's recent coming out is reported to have inspired La to do the same.
"Latifah's about to come out the closet to let the world know she's lesbian and she's in love with her girlfriend Eboni Nichols."
Here's the thing … this won't be the first time La took a step out of the closet. Back in May 2012, at the 29th Annual Long Beach Lesbian & Gay Pride Festival, the 43-year-old lady lyricist-turned-talk show host made a proud stance … before later recanting her statement. Just ask MC Lyte.
"I've been waiting to do this for a long time and i'm proud to be among my people." -Queen Latifah
Here's what a source recently told the National Enquirer:
"Latifah never wanted to be labeled a gay spokesperson or role model – that's why she's never come out. Her sexuality has been one of Hollywood's biggest non-secrets for years, but since Robin came out she's been thinking long and hard about doing the same. Latifah always wanted to keep her private life out of the spotlight, even though she's never hidden her girlfriends from her close friends and family.

She's performed at gay pride festivals, so in her eyes she doesn't need to make a statement. But deep down inside she knows that going public, like her friend Robin did, will go a long way toward furthering public acceptance of lesbians and gays. Latifah respects and admires Robin's decision. Although she's still on the fence, she's finally thinking about coming out – and that's more than she's ever done before."