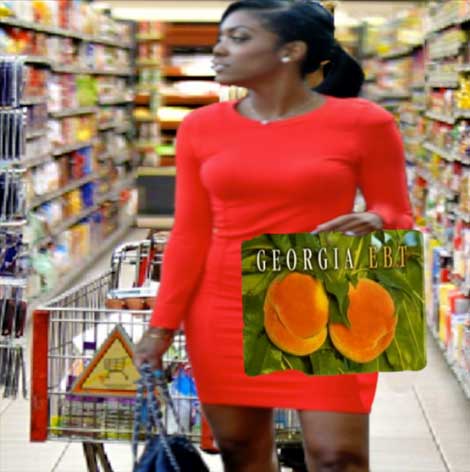 Either she's shafting the system or times are tough, but according to Porsha Stewart's camp, the RHOA personality was using an EBT card to pay for groceries "because she was shopping for someone else."
Here's what's Rumor Fix is reporting:
"The Chanel-bag toting, Louboutin wearing Porsha Stewart was seen using her Food Stamps card to purchase food.

The "shopping for someone else" explanation coming from Porsha's posse is in response to her chance encounter with a whistle-blower. We're talking about the shopper, who's reported to have been standing in line waiting to pay for their own groceries, who spilled the beans after reportedly spotting the reality star at Atlanta's Kroger grocery store, "on Piedmont in Buckhead."
Here's the drop:
"I couldn't see exactly what she bought because she was three people ahead of me on line, but it looked like some cereal and some fruits and vegetables."
Is Porsha Stewart highly upset with soon to be ex-hubby Kordell because he banned her from his house, sending her back to live with her mamma? Of course! Just Porsha's sister, Lauren.