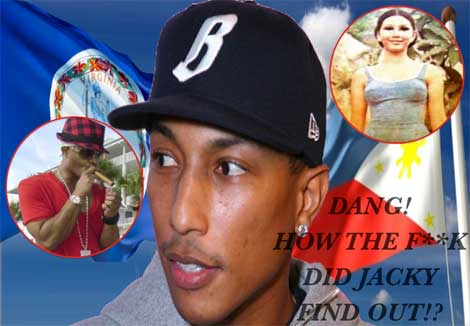 Mestizo Music Man's Mamma Revealed!
HSK Exclusive – If "Black people smell oily" and "white people smell metallic/garlicky" — it'd be interesting to know where Azaelia Banks (who recently called out Pharrell Willams for being "funny … after he had his light skin comeback") would rank the Funky Filipino on her smell-O-meter.

That's right … we said Filipino. Know why? Because an insider exclusively tells HSK Pharrell Williams' mother is a full-blooded Filipina. Don't believe me.. Just ask Chad Hugo.
"Williams doesn't talk about his his mixed ethnicity."
Pharrell Williams would have you believe his mother's name is Carolyn Williams, but according to our tipster his mamma's name is really Caroline Williams. We're told her maiden name is Caroline Gomora Masibay — a former Filipina beauty queen, who represented the Philippines when she landed 1st runner-up in the Miss Asia Pacific pageant, June 26,1971. That's almost two-years before Pharrell Williams became Caroline and Pharaoh Williams' firstborn child.
Here's what Pharrell Williams once had to say about his parents:
"My mom thought her sons could do no wrong. She lived for us. There was plenty of discipline, but we knew we were loved. My dad is a nice guy, Southern, old-fashioned. He restores cars now. My mom has just gotten her doctorate in education."