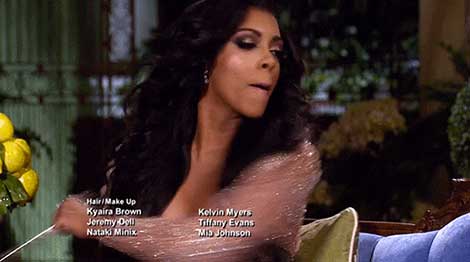 Reports are revealing a mixture of prescription drugs, painkillers and alcohol are what fueled Porsha Williams', during the RHOA reunion that led her to exit the show… with a bang!
"She is very unstable. She's been taking medications and mixing it with alcohol."
Sources say after she attacked Kenya, Porsha "suffered a nervous breakdown". This, after Porsha's said to have sought treatment for depression following her divorce.
Insiders say.. between the booze, the drugs to battle her depression.. and "the prescription painkillers following her recent breast augmentation" Porsha straight snapped!
Here's what an insider told the press:
"Porsha was drunk… there were two bottles of wine in her dressing room. She came to fight Kenya and needed some liquid courage!

Bravo knows that she is now nothing but a liability. Her attack on Kenya failed, and she lost her mind. It's all very sad."