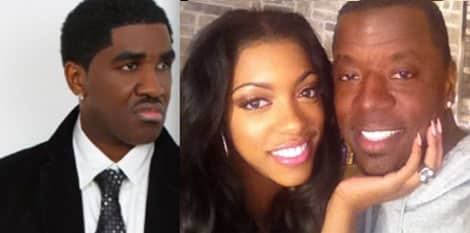 Show Me Your Company & I'll Tell You Who You Are…
HSK Exclusive – The man who Porsha Stewart was smashing behind Kordell Stewart's back is looking to cash in over a slew of steamy sexting messages he exchanged with the 'Real Housewives of Atlanta' reality star. This while Porsha knew dude was engaged to Crystal Mocahantas. Don't believe me.. Ask Andy Cohen.
According to Ralo Wonder's Twitter page, he's a "Billionaire Boy" who is "CEO & OWNER of WonderGroup Ent". It seems to be a front which known gold-diggin' Porsha fell for. The problem is, we've yet to dig up any evidence the said companies Ralo Wonder is claiming even exist.
That's why we weren't surprised when we learned Ralo runs with LHHATL's Nikko. Know why? Because sources tell us both men are nothing more than schemers. Don't believe me.. Ask Mimi Faust.
Here's what Freddy O is reporting:
"Apparently, Ralo and Porsha had a real steamy side relationship that Kordell got wind of but couldn't prove it. It all may be coming to light since one of Ralo's disgruntled business associates got a hold of Ralo's cell phone with tons of evidence. The disgruntled associate is threatening to go to the media if he's not paid money that he claims is owed to him."
Is Ralo Wonder the only person plotting behind the attempted scam by using a "disgruntled business associate" play? Of course! Just ask Paul Cain.