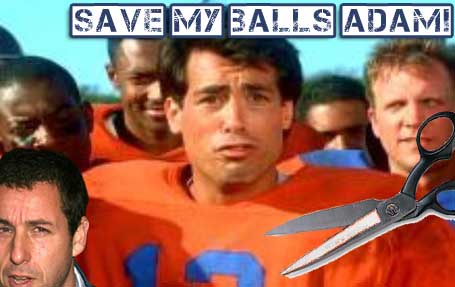 You may remember last month TMZ broke the story "waterboy qb – my genitals are in grave danger". Peter Dante, husband to Cynthia Pett Dante who represents some of Hollywood's biggest; Brad Pitt, Courtney Cox and many more, alleged that some guy threatened to cut off his d**k. According to the TMZ story Dante mentions' talking to the man's wife on the phone and that was it. Yea right… That's not how Jacky saw it so we dug up the ball breakin' husband ourselves and got the real story mane….
When HSK spoke to the husband, he claimed that Dante stalked his wife for six months after getting her phone number under a false pretense of "getting the kids together" for a play date in the park. His pursuit of the woman looks exactly like the Reggie Miller story with literally hundreds of texts daily – see below! What's wrong with these guys? Do I need to introduce you to Vinnie Vixens again?
Apparently after six months of relentless pursuit, the woman met Dante at his family's beach house in Malibu. Thereafter, Dante was meeting the wife in cheap motels, parking lots for "back seat sex", or just about any quick and convenient place possible. He even got the clap (something you'll NEVER get from an HSK vixens)!! This went on for five years before it caught up with him and the husband found out; OOOPPPS!
The husband threatened to cut Peter's balls off and yet as it turned out, the City Attorney dismissed any allegations of wrong doing by the husband and told the waterboy to stay away from the dude and his wife.
I'll tell you one thing; I would keep an eye on your wife if near "waterboy qb!" He doesn't take no for an answer!
Check out the exclusive cell records below!