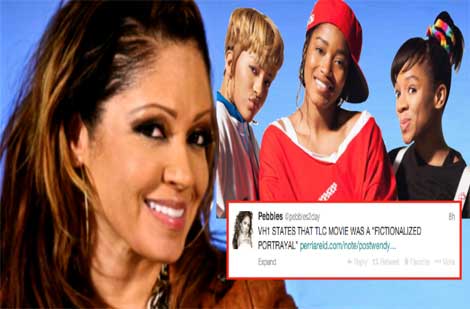 "No reasonable person would view it [TLC Movie] as a literal recreation of historical events." -VH1
Pebbles is proving to be a force not to be reckoned with. Just ask the folks over at VH1, reported to be eating their own words!
You'll recall the network promoted CrazySexyCool as "a true story." They're now on record saying that's not the case!
"The movie is a fictionalized portrayal of the development of TLC as told from the perspective of the members. It features a cast of professional actors in a scripted context." -VH1
That's according to a press release sent out last night, stating Pebbles' recent revelations on The Wendy Williams Show — including her airing out how VH1 handled her after complaints were filed over her depiction in the TLC movie — is what seems to have forced VH1 to throw in the white towel.
This, after the report reveals previous action by Pebbles' attorneys, "demanding a retraction of the false and defamatory statements and scenes about Ms. Reid," were shot down. Now, not only is Pebbles on the road to reclaiming her reputation, she could also be gearing up to make the network pay-up for painting her as a villain.
Check out what Pebbles explained to Wendy Williams:
"I Absolutely did not kick Chilli out of the group. T-Boz and Left Eye did. They kicked her out because of what they said was happening in the studio. That Chilli dating Dallas was the conflict of interest. This is what they said to me, 'She's in here doing this and doing that.' They have group rules. I sat them down early on and said, 'Establish how you want to be a unit so you can keep your communication together. Make rules. Don't cross these rules.' You have three girls. You gotta keep them together. You're supposed to not fraternize with the help. Everybody is going to gravitate, hell, I married my producer. That was love. But what I'm saying is this, they did not like it, they did not want it. And it is the truth."
Pebbles also pointed out the TLC storyline telling she payed each member of TLC $25 bucks a week "is a lie":
"I don't do $25 on things. I'm a very generous person. That's a lie… a huge one."
Here's what Pebbles had to say about Chilli creepin' w/ L.A. Reid:
"I didn't know. I suspected a couple of things, but I didn't want to believe that. And for years, I didn't want to believe that because I felt like they were daughters to me. I am going to write my book and put it in there, but believe me when I say, I saw a couple of things."
Pebbles shares what may have happened, had she caught them in the act:
"Let me explain something to you, I would've caught a case, had I seen something like that back then."
I don't blame Pebbles one bit. Know why? Because despite the fact that the TLC 'biopic' was promoted as "a true story" … on the real … Perri Reid was never given the chance to tell her side of a very one-sided VH1 story. I'd tell you to ask Lisa 'Left Eye' Lopez, but she's passed on.