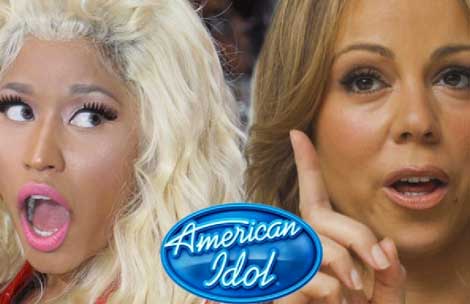 Only One Diva Allowed!
Putting it lightly … Let's just say Nicki Minaj is far from being one of Mimi's favorite people. Without the sugarcoat? Mariah pegs her as Satan!
Mimi reveals, Nicki Minaj is the reason why what could have been a cool gig turned to her checking into fire and brimstone daily, when she showed up on the set of American Idol.
Here's what MiMi told Hot 97 about her American Idol gig:
"Honestly, I hated it. I thought it was going to be a three-person panel. They gave me a nice, dangling monetary moment, and I was just like, 'Okay. Randy Jackson will be there. I've known him forever. He used to play bass for me! Like, this isn't a big deal. This will be nothing.' But it wasn't like that. It was like hell…It was like going to work every day in hell with Satan. Nah, I'm just playing. It didn't affect me that much. I was just disappointed.

I like being in the studio better and going on my own tours. So we're going back to that."