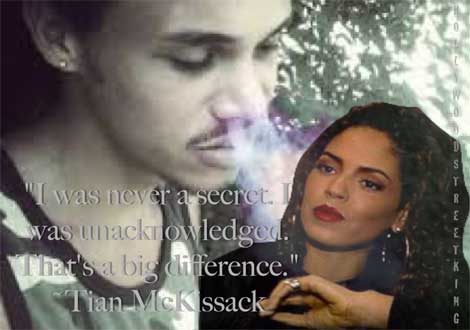 "Me and Perri do have a relationship. Are we close? Hell no, I don't want to be. But we are speaking." ~Tian McKissack
HSK Exclusive – Pebbles' 19-year-old 'love child' is setting the record straight, revealing never heard before details about his life… in the shadows of his famous mother.
"She [Pebbles] came to my 10th birthday party … that's about it. But we did have frequent phone conversations, so I've known her all my life."
Sebastian 'Tian' McKissack, an Oakland tattoo artist, exclusively tells HSK a little about his late father; the person who acted as his mother, during his comfortable upbringing; and the current state of his relationship with his biological mother, who he refers to simply as 'Perri'.
""I was raised by my grandmother (Perri's mom). I was well taken care of, I wasn't poor. My dad was present often. My mom? Not so much."
Here's what Tian McKissack reveals:
"I was born and raised in San Diego, but I live in Oakland now — with my wife and son. My father wasn't a drug dealer, he was a pediatrician. He passed away last year.

I never spoke with her [Pebbles'] other children until I went to Atlanta with my grandmother to visit them … but I wasn't presented as Perri's son, I was presented as a cousin. Me and Ashley got kinda close during those days. I was there and we kept in contact, since I explained the real story to her.

Aaron? No.. he dislikes me to this day, but I could give a shit."