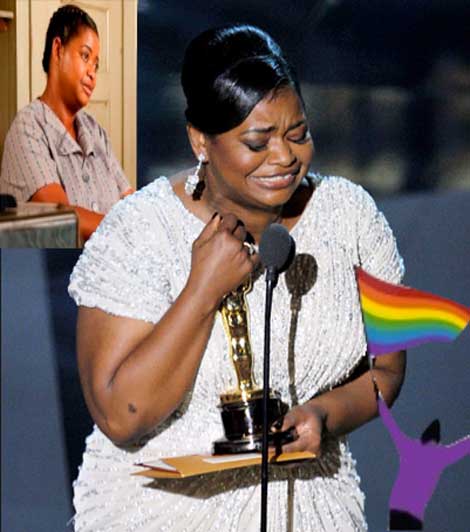 "She champions the LBGT community — but she refuses to come out!"
HSK Exclusive – Octavia Spencer isn't just a sell-out, she's a proven hypocrite too! Know why? Not only did "The Help" actress happily sign up to be a Mammi, she openly endorses "the gay civil rights movement" … while keeping herself tightly locked in that closet! Just Ask Oprah.
This news comes shortly after the 43-year-old revealed, "I'm totally fine with not being married or a mom right now." Being that we're talking about a 40-something aged 'single' woman — who's spoken of "bitchy queens" … revealed, "I guess all I know are really strong women" … and dared to compare Black people to homosexuals, saying, "gays understand what it's like to be discriminated against, especially in our country right now where they're fighting for their civil right to get married," insiders say Octavia Spencer's Lesbian signs are all there.
Here's the drop:
"Octavia and Oprah have a lot in common. Both of them are undercover Lesbians and both of them are firm backers of slave movies."
Is "Driving Miss Daisy" Octavia Spencer's favorite movie of all time? Of course! Just ask Morgan Freeman.