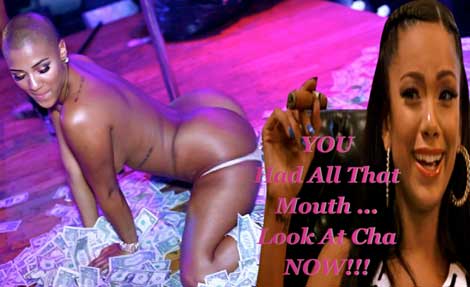 "Nya filmed two episodes and she's done."
HSK Exclusive – Nya Lee had all kinds of tough talk for Rich Dollaz when he stepped to her with his "I make dreams come true" promise.
Now, the aspiring rapper probably wishes she took him up on his one-time only offer. Know why? Because we're told she's back on the pole … dancing for singles, rather than being managed by Rich Dollaz!!!
"After next week's episode you won't be seeing Nya anymore. She's done for the year."
According to our tipster, Nya Lee has just two episodes of 'Love & Hip Hop' under her G-string — last night's VH1 broadcast being one of them. Though you'll see her on next week's show, Nya Lee's said to have since taken it back to Queens, New York's 'Perfections' strip club … shakin' her azz to make ends meet.
"Nya and Erica got into it … so Erica threw some singles on her to remind her where she came from."
Here's the drop:
"Nya Lee smashed Jada Kiss, and Fabolous so they'd spit on her mixtape. She looks like a straight stud, but ASAP Rocky and his crew ran a train on her."