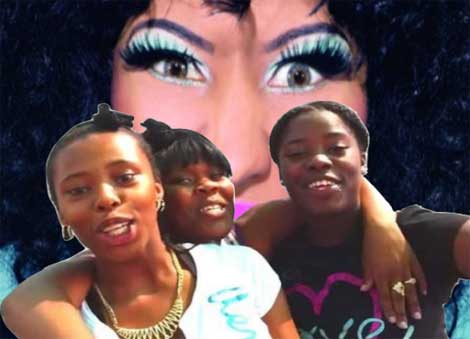 "I'm all about fame/F*ck a n*gga, F*ck a b*tch/Straight getting paid/I love money." -Pretty Taking All Fades
That's just a short sample of the explicit lyrics written by three teens girls, who now have Nicki Minaj to thank for leading them to Capitol Records. This, after the girls blasted Barbie, "saying that Nicki bit their swag."
"P.T.A.F. posted a song on SoundCloud a long time ago, over a year."
The social media check led Nicki to feature Kandii B, Alize and K Duceyy — aka 'Pretty Taking All Fades' — in her 'Boss Ass Bitch' mixtape. Know why? Insiders say Nicki tried to pull a Will.i.am on PTAF — who aren't just featured in Nicki's B.A.B hook, they originally wrote and produced the track.
Here's what's posted on PTAF's Instagram account:
"Boss Ass B**ch' chicks P.T.A.F. land record deal with Capitol Records…. Thanks to @nickiminaj who jumped on the track, which helped the record gain even more attention & notice from A&R rep Eesean "E" Bolden over at Capitol Records. The girls Kandii, K Duceyy and Alize signed a single deal with the label in January. No word yet if a full length studio album will be released."
PTAF may believe 'Nicki bit their swag,' but I'd say these high school students are nothing more than products of Black Barbie's curse on our Black youth! Don't you agree?
PTAF – Boss Ass Bitch

Nicki Minaj – Boss Ass Bitch (Lyrics Video)
http://youtu.be/qg1tO7yQ0dE