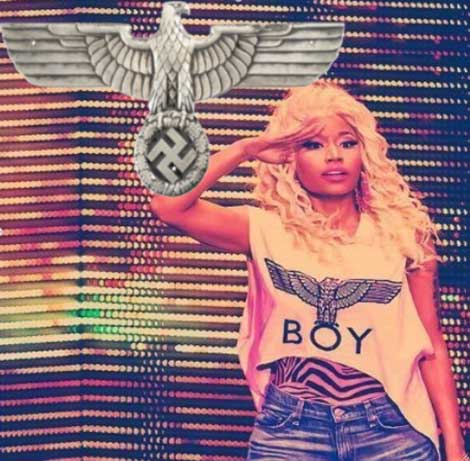 "I'm the child of a Holocaust survivor and have seen my father's papers stamped with the Nazi eagle – so I know what it is. It's 100 per cent offensive." ~Sharon Lee, UK protester
Anti-Semitic protesters may have recently rocked a UK retail giant to pull one clothing brand its stores — but 'Black Barbie' has no problem with serving as that very brand's great American mascot. Just ask Paris Hilton.
It now seems obvious what Boy London did with those pulled pieces… introduce them to American pop culture! Ms 'Twerk It' Minaj is confirmed to have sealed a Boy London endorsement deal. Hold up! She's not alone. According to Boy London's website — Rihanna, Rita Ora and Wiz Khalifa have done the same.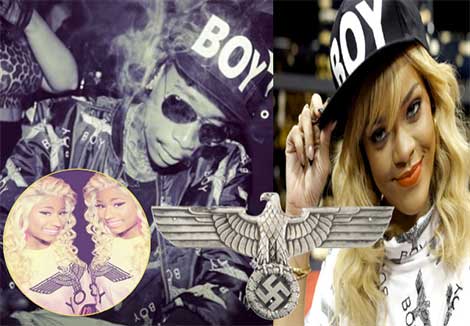 Mark Gardner, spokesman for an anti-semitism watchdog, had this to say:
"The logo closely resembles the Nazi eagle – with its claws holding a circle containing a swastika, except now, the swastika is removed.

It is easy to understand why people will be offended by such a logo, particularly when it is promoted for profit to youngsters who are probably ignorant of its resonance."
John Krivine, who sold the company in 1984, said:
"I don't know what kind of eagle it was – Roman Legion, American Indian, Continental Congress, Third Reich – it looked cool."