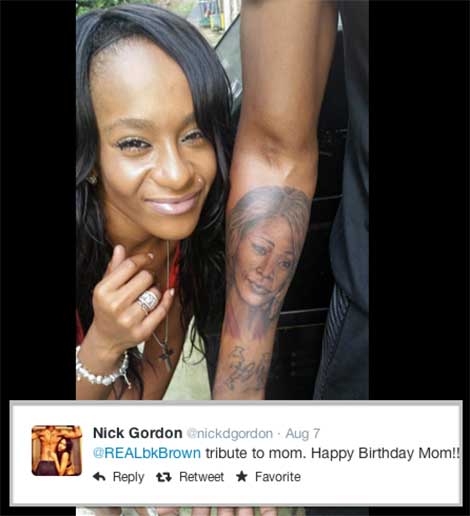 "Tattoo for the beautiful artwork of something that means so much to me. @REALbkBrown and I love you."
HSK Exclusive – If Nick Gordan should ever desire to see an image of the late Whitney Houston, he won't have to look further than his forearm. That's the spot where dude just had a mural of Whitney marked into his skin. Nick's latest tatt session went down shortly before he and Bobbi Kris rang in Whitney's August 9th birthdate… complete with a cake.
"Please let her [Whitney] rest." ~Cissy Houston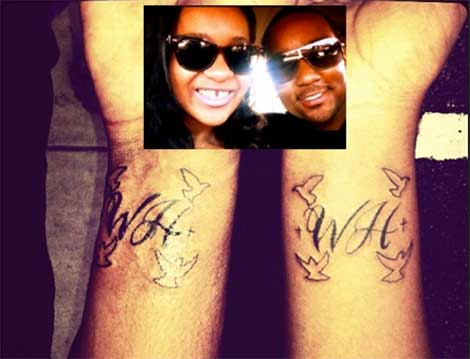 This isn't the first time Nick's gotten inked up with Whitney in mind. Back in November 2012… both he and Krissy had matching tatts of Whitney's first and last initials inked onto their wrists. That's before the pair turned renegade on The Houstons… with Bobbi Kris going as far as lashing out against her grandmother. I wonder if Krissy made it a point to reach out to 80-year-old Cissy Houston on Saturday. Know why, Krissy? On August 9, 1963, Cissy gave birth to Nippy.
Cissy previously spoke out against Lifetime's barcoded 'biopic' of lies based on Whitney's life:
"Please, please let her rest…

Lifetime has chosen to go ahead with the movie about Whitney in spite of my family's objections. No one connected with this movie knew Whitney or anything about her relationship with Bobby.

In the two years since Whitney's death, many people have stepped forward to speak about their close relationship with her. I find it difficult to believe people who knew and supposedly loved her would participate in a movie about her done by folks who didn't know her. We are exhausted by the continuing misinformation and comments offered by people who did not know her."
http://youtu.be/mytGVzbCzWQ