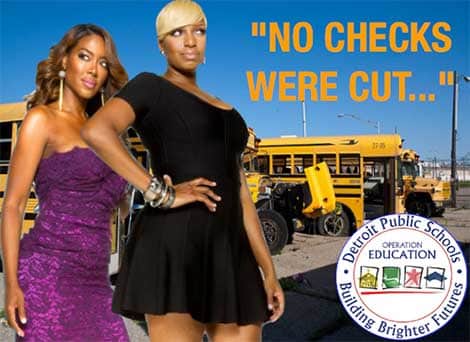 Checked For NOT Putting Their Monies Where Their Mouths Were

Nene Leakes and Kenya Moore have proven themselves to be all talk, no action. You'll recall.. the pair of pitiful peaches each promised to donate 20-rack$ to the Detroit Public School Foundation, during taping for RHOA's reunion show.
Now.. nearly two-months after Nene and Kenya claimed they were about to give to their chosen charity, they're being put on blast for lying!
"Neither lady has paid up… no checks were cut, and neither camp has even been in touch with the Michigan-based foundation to set up the hefty donation."
Check out what DPS Foundation president, Glenda Price, had to say:
"We are aware of the segment that references the potential contribution to the DPS Foundation, however we have not received any official notification of a gift.

We are gratified that we are seen as an important entity in the support of public education in Detroit, and we will give due recognition to the donors when monies are received."
Here's a portion of RHOA's reunion show transcript:
Nene: "Let's put our differences aside for a day of charity. You pick the charity of your choice. I will donate $20,000 and you match me. You donate 20 along with me. How about that? 20K. You ready? Name the charity, and let's go."

Kenya: "Okay, well, we'll play for the Detroit Public Schools Foundation."

Nene: "I will write a $20,000 check, and I'd like to see you match me. We'll write it together," Leakes said.

Kenya: "All right."