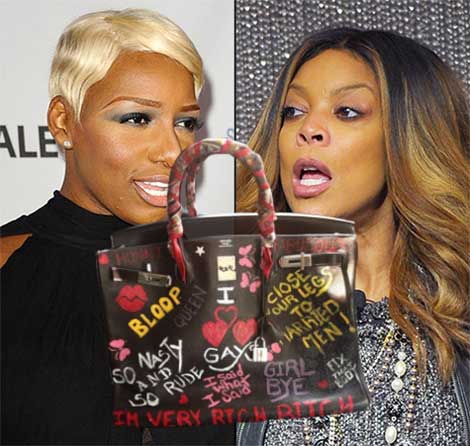 NeNe Leakes just set it off on Wendy Williams!
Sources say… the Gossip Queen caught heat after referencing Nene's IG pic of an obscenely priced Birkin bag… "Hot Question: What do think about @NeNeLeakes defacing her Birkin bag?" Wendy asked her Twitter followers. She also posted a photo of Nene carrying the purse with her catchphrases written on it.
The Real Housewives of Atlanta star posted a picture of a customized Birkin bag on her Instagram account last week with the caption:
"#personalized #birkin #neneisms #hermès custom by me & my husband had a fit." The bag, which can cost up to $10,000 and has "Neneisms" on it like "I'm a very rich bitch" and "close your legs to married men!"
It apparently didn't sit well with Williams.
NeNe fired back with this open letter:
"Wendy I am sure people think that I've done something to you, maybe we had a beef or I slept with your man but none of that is true! I've actually only been nice to you! I gave you a beautiful black $3,200 Celine Phantom Bag to celebrate your 500th show but you haven't spoken of that! But what you have chosen to do is constantly speak negative of me and lie on me!

What you need to do is stop spewing hate! When it comes to gossip you are the lowest of the low! I know you hate because I turned down the chance to come on your Talk Show and I am sure you're scared I will take your place (I know you have heard! Ummhmm wink wink) BE SCARED!

I have a clothing line on HSN coming out in a few days and I know it must be hard for a black woman to support another black woman but you should try it sometime.

PS: My Birkin is being turned into a work of art to raise money for a worthy charity something you fail to mention on your show! I don't have one Birkin I have five now run tell that WIG."