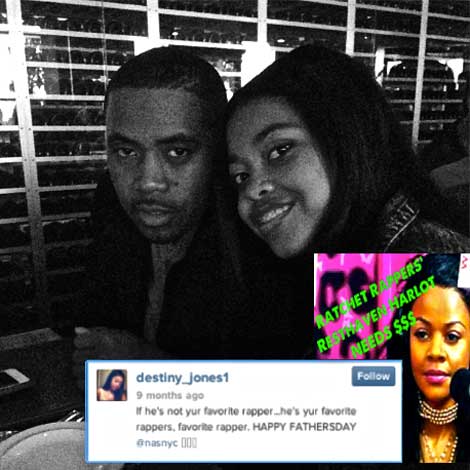 If Carmen Bryan had her way, her daughter's dad would be just another incarcerated statistic. Reports reveal Bryan recently filed suit against Nasir Jones, claiming he owes her "more than $11K in back child support."
This, about nine-months after the pair's daughter, Destiny Jones, turned 19-years-old. Now.. it appears Destiny Jones, a teen who praises iconic feminist Angela Davis, is a true 'Daddy's Little Girl' … and Carmen Bryan will soon be forced to face her own karmic destiny.
You'll recall… back in September 2013 — not long after Nas reportedly fulfilled his end their child support deal — Carmen announced her gearing up for the release of a 'remix' to her infamous 2007 tell-all, "It's No Secret: From Nas To Jay Z." That's when she took to Twitter, to land some shine.. while adding even more insult to injury…to herself! "I'll always be the girl her [Beyonce] husband started a war over #facts," Carmen tweeted. "There's no doubt that Jay Z excited the world, however I'm the girl that excited Jay Z." [Where did Nas find this heaux???] Anyway… Days before Christmas 2013, Carmen did release a read, but it turned out to be a 'How To' on shedding pounds — "Hailed as the Holy Grail of Weight Loss."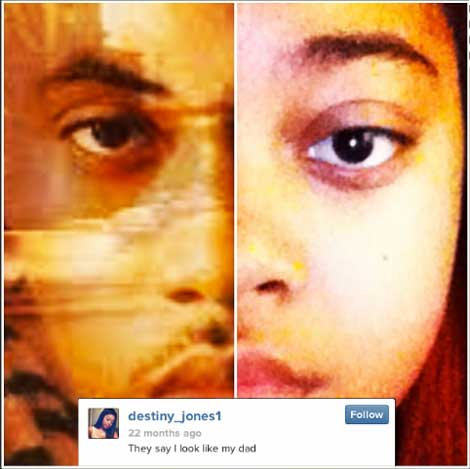 "I don't respect Nas … even as Destiny's father." ~Carmen Bryan
Here's the word on Carmen Bryan's latest shameless paper play:
"Bryan labels Nas a "repeat criminal non supporter" and says he's intentionally screwing over his daughter by refusing to pay her college tuition and her medical bills. Bryan wants Nas cited for contempt."
Did Carmen Bryan give a special shout out to another New York rapper, crediting him for the "encouragement" to make her tell-all possible? Of course! Don't believe me.. Ask Fiddy!