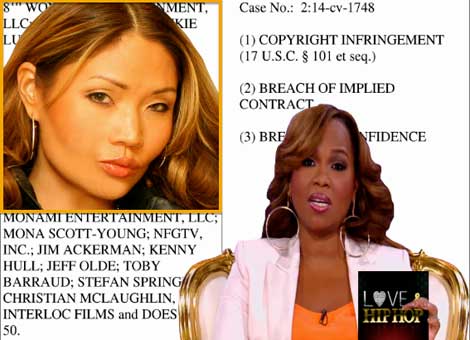 "Nickie Lum-Davis… is the author, creator and copyright holder of the Work… VH1 and Scott secretly engaged in the negotiation of a TV production deal using Plaintiffs copyrighted work."
Mona Scott Young would have you believe she's the brainchild behind "Love & Hip Hop" — but recently filed court docs don't only seem to prove that's a straight up lie, the Monami Entertainment founder is being blasted for ripping off the idea from another woman! Don't believe me.. Just ask Chrissy Lampkin. Know why? It's looking like Mrs. Jones knew all about Mona's script-scam from the jump!!!
Now… Mona Scott Young, her production company Monami for Love & Hip Hop, VH1, MTV Networks and Viacom are facing a $50-million dollar lawsuit!!!
"The parties listed are being sued for copyright infringement, fraud, and breach of contract, breach of confidence for the idea of "Love & Hip Hop."
The Court case, just filed yesterday (March 10, 2014), is being revealed as "the largest copyright infringement case in Reality TV history!!" According to the docs.. Nickie Lum-Davis is the woman who Mona Scott Young — and VH1 execs — plotted against, before running with her "copyrighted" script "Hip Hop Wives." Don't believe me.. Just ask Jim Ackerman.
"VH1 Senior President Jim Ackerman, and Scott, secretly plotted to steal Plaintiffs Work."
Here's a rundown of highlights from 8th Wonder Entertainment, Nicki Lum-Davis &Trisha Lum's multimillion dollar lawsuit:
– February 27, 2009, Plaintiffs, along with attached talent Chrissy Lampkin, Tashera Simmons and Mashonda Tifere, attended a pitch meeting tih VH1 executives for consideration for the production and distribution of "Hip Hop Wives"

– "…a reality show based in New York City that followed four women who were in relationships with Hip Hop celebrities, and highlighted the ups and downs that these women all go through in their everyday lives."

– March 17, 2009, "VH1 submitted to the Plaintiffs television deal offer to produce and distribute the show on the VH1 network."

– "Between late June and early July 2009 Num engaged in numerous conversation with with Scott regarding Lampkin's role in the project… related to "Hip Hop Wives."

– October 2009, "just shortly after two-months, after executing a performer agreement with 8th Wonder, Chrissy Lampkin, without any legitimate explanation unexpectedly announced that she would no longer be participating in the show."

– December 2009, "Senior Vice President Jeff Olde shockingly informed 8th Wonder that VH1 would be terminating the television deal because VH1 did not want to have an urban based show that had a similar audience to "Basketball Wives," and that VH1 would not be producing a "Hip Hop Wives" type show in the future."

– May 14, 2011, "VH1 ultimately premiered a virtually identical show under the name, "Love & Hip Hop," crediting Ackerman and Scott as creators… credit none of these ethically bankrupt Defendants deserve."
Here's what Nickie Lum-Davis' attorney, James Bryant, states to the Court:
"The television and film industries have the unsettling and notorious reputations of being a haven for the theft of scripts and novel ideas created by unsuspecting and trusting writers and producers, by more powerful and connected industry players.

As the story goes a writer or producer will submit a script or treatment to a network or studio with the hopes of possibly getting a television show or movie mades. Shortly thereafter, and much to the writer's disappointment, they receive a letter of no interest from the network or studio whom the submitter their work to.

Finally, a year goes by and that same network or studio, that writer had submitter their work to, released a blockbuster movie or hit television show that is vitually identical to the writer's work."
Here's a link to the doc, exclusively obtained by TattleTailzz.com: