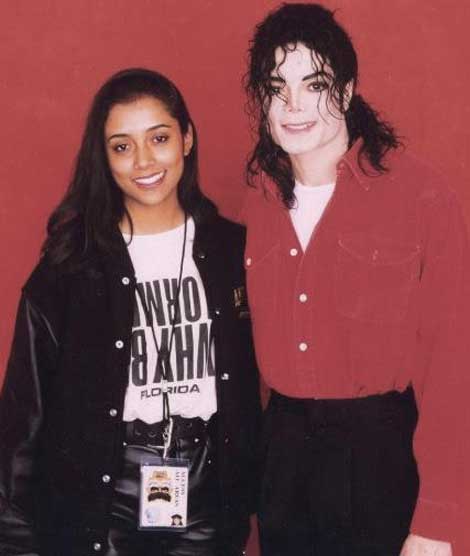 Shana Mangatal Named…
HSK Exclusive – Secret details of Michael Jackson's love life are still coming to light, as the woman reported to have been involved in a longtime relationship with the King of Pop is identified.
Sources say 42-year-old Washington, D.C. native Shana Mangatal is a woman who played a huge part in MJ's life – reported to be a person who the legendary singer would visit at least twice a week, and contacted daily.
HSK has exclusively learned Mangatal first met MJ back in 1988, after one of the late singer's concerts. We're told in 1991 destiny would have the couple cross paths again – while Magatal was working as a receptionist for Sandy Gallin, co-founder of the reigning 90's talent management firm, Gallin-Morey. Sources say MJ and Mangatal both thank Gallin's close friend, David Geffen, for making the introduction.
That's before sources say MJ and Mangatal grew so close that Michael would often confide in her, and ask Mangatal for advice on how to handle some of his work-related situations. We're told though Mangatal often remained in MJ's shadow (playing a role in Ghost '), she has appeared in public on the King of Pop's arm – accompanying MJ – as his "guest" – to the 1991 record release party of "Dangerous".
Here's what MJ's former manager and discoverer of Boyz 11 Men, Qadree El-Amin, had to say about the relationship:
"MJ was being managed by Sandy Gallin. So, Sandy got hold of me because Michael wanted to work with Boyz 11 Men.

When I met Michael at Sandy's office we became friends — he would call and tell me how gorgeous Shana was. He even once said to me, 'Shana is mine so when you go over to Sandy's office don't try anything. But when you do get over to the office tell her I asked about her.'

They definitely had something going on."
Here's what a source had to say about seeing MJ and Magatal together in Las Vegas at a 2007 David Copperfield show:
"People would like to doubt Michael Jackson had a regular girlfriend. I couldn't believe it, but I saw Michael Jackson with a girl at the magic show in 2007. I was wondering who the girl was, MJ couldn't take his eyes off her.

I saw him hug her and kiss her lips. I never knew who the mystery woman was until I later on saw Shana doing an interview with Entertainment Tonight."