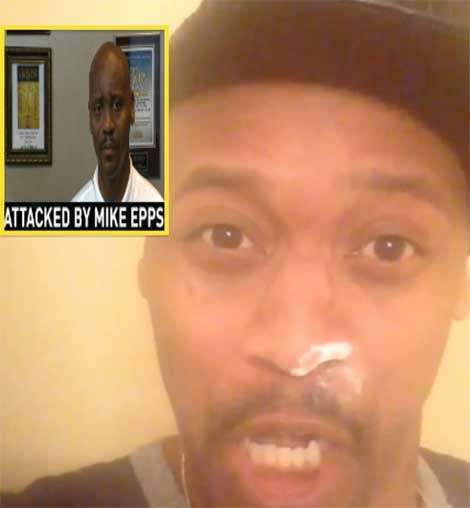 "Cocaine's A Hell Of A Drug." ~Rick James
Mike Epps has made a career on delivering jokes. The problem is he doesn't seem to be able to take being the butt of the joke. Don't believe me… Just ask Lavar Walker. Sure, you've probably never heard his name before… but the aspiring Atlanta-based comedian sure did land himself some shine. Know why? Simple… shooting a diss joke on a known comedian [in this case, Mike Epps].
"Lavar Walker made an Instagram video spoofing the beef between Epps and Kevin Hart. In the clip Epps appears to have been snorting cocaine."
Here's where it's gets juicy… Lavar hashtagged Mike Epps in the IG post leading Epps to eventually view it. And, let's just say Mike didn't find it funny. Know why? Lavar's over-the-weekend stop at Atlanta's Uptown Comedy Corner ended with Mike, and a pair of the comedian's homeys sending Lavar to the hospital after allegedly delivering him with a beat-down over the parody! Talk about Turnt!
Check out what Lavar told ATL's NBC affiliate:
"I was going out to meet him and he struck me. He struck me and two other guys he had with him struck me and hospitalized me. Beat me over this joke."
11 Alive reports:
"Walker was reportedly slammed into Epp's Ferrari, kicked in the stomach and had his cell phone thrown onto a roof. He was treated at Grady Memorial Hospital for heavy bruising and cuts to his head. A police report was filed, but no warrant for Epps' arrest has been issued."
Take a look at the clip that pissed Epps off…