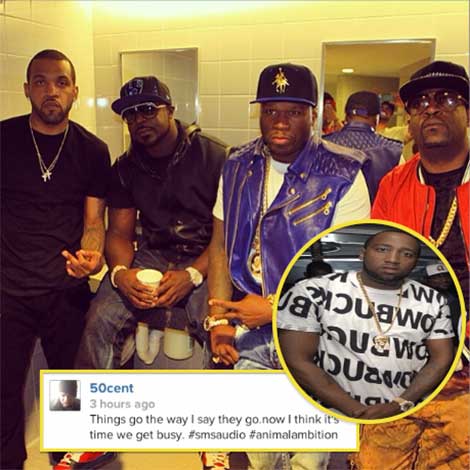 G-Unit Gets Grimy
"Slowbucks [got his] ass kicked on stage… then 50 wore his chain on stage!" -Witness
The G-Unit may have marked this years HOT 97 Summer Jam as the spot to make they're reunion public… but that's not the only marking revealed to have gone down! Just ask Slowbucks, whose snatched chain Fif reportedly used to humiliate dude — after he caught a beat-down on the stage!
"Slowbucks got put on the Summer Jam screen." -Witness
Sources are calling out Fiddy as the orchestrator behind the brazen attack… AND they say "video should be dropping soon." But Slowbucks isn't the only one who Fif and his G-Unit reportedly sought revenge on, Sunday. Don't believe me… Just ask Ebro.
Here's what a source reveals:
"Nas brought out 50 to I Get Money, who brought out Banks to On Fire and Yayo + Buck came out too.

50 Cent brought 100 other people on stage like the old days… Bunch of old and new songs come out… then you see Slowbucks getting brought on stage, then his ass kicked on stage, then 50 wore his chain on stage! Then Yo Gotti gets brought out for Don't Worry About It after Trey Songz gets brought on for Smoke.

Finally 50 and the Unit disses Murder Inc and Ja Rule by rapping 'I Smell Pussy' then finally they pulled a f*cking classic out of nowhere to end it, he brought out "U Should Be Here" from the 50 Cent is the Future mixtape.

Oh yeah and 50 dissed Jimmy Iovine saying, 'The label can't drop a nigga like me, I drop the label.'"