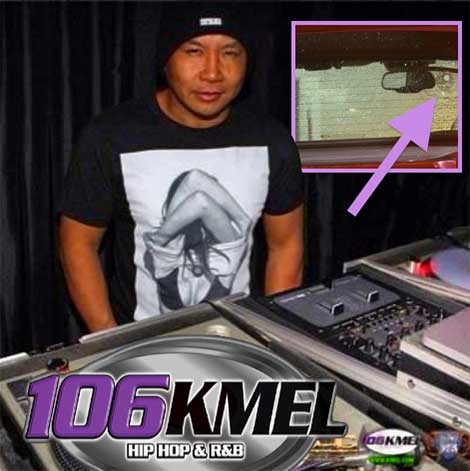 "KMEL DJs are running a huge payola scam at the station."
HSK Exclusive – Shocking details surrounding a northern Cali freeway shooting are emerging, revealing the incident to have been a possible hit on Oakland's DJ Rick Lee. Know why? According to our insider… a modern day payola racket is said to be going down at DJ Rick Lee's radio headquarters: 'San Francisco's Home For Hip Hop and R&B', 106 KMEL! Don't believe me? Just ask DJ Rick Lee's business partner at Goder Magazine, Cartier AKA "Network".
"Rick Lee took money from an artist to play his records on his radio show and welsh on the deal."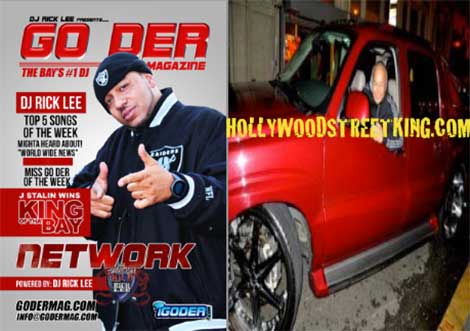 Back in December 2013… the brazen shooting made headlines after the three men in the line of gunfire managed to dodge the bullets. This, after the red Cadillac Escalade — a vehicle now confirmed to have been DJ Rick Lee's — caught four bullets as it traveled west on Highway 580, near MacArthur Boulevard. Now, six-months after the incident… DJ Rick Lee is being revealed as the driver of the "targeted" Cadillac, suspected to have been marked when the men left a Bay Area nightclub.
Here's the drop:
"The FCC is getting ready to do a full inspection on KMEL. When Rick Lee got his truck shot up, people started asking questions because somebody paid to keep Rick Lee's name out of the newspaper.

Rick Lee's street scout "Network" took money from the wrong people and when Rick Lee didn't play the individuals records… payback ended up being a near death experience for Rick Lee."