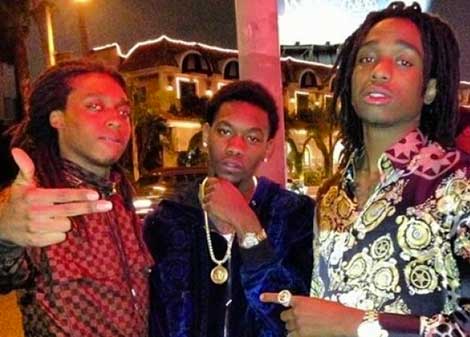 HSK Busts TMZ Reporting False Details, AGAIN…
Miami promoters may be behind this morning's shooting attack on Migos. Know why? Sources say it happened "after some type of tif with [Migos'] management", leading the group to cancel their show.Though we can't confirm which Migos member caught a bullet to the leg, we can tell you his injuries are "non-life threatening", and he's recovering at Jackson Memorial Hospital.
"We are still investigating the incident and are looking into the identity of the shooter. At least 12 shots were fired." ~Florida Highway Patrol
Cops say it went down around 3:30 this morning (March 28th), while the group was heading back to their South Beach hotel. That's after Migos bailed from Cafe Iguana nightclub in Pembroke Pines, jumped into a Mercedes van, and headed down I-95 South.
Here's what Florida Highway Patrol reports:
"A black vehicle pulled alongside near the Northwest 62nd Street exit, and someone fired a weapon toward it.

A guy in the van had a gun, he shoots back at them. There was an exchange of gunfire… no one else was injured."
Did TMZ fail to fact check the details of their March 28, 2014 "Migos Involved in 'Scarface' Style Shootout In Miami" report? Of course.. Just ask State Trooper Joe Sanchez.
TMZ didn't just fudge the date and time of the shooting, publishing the March 28th incident occurred the night before — Harvey's team is AGAIN proven to rely only on what they are told: "One of the group's bodyguards was shot," TMZ reports. "Migos' manager tells us no one in their van was injured."