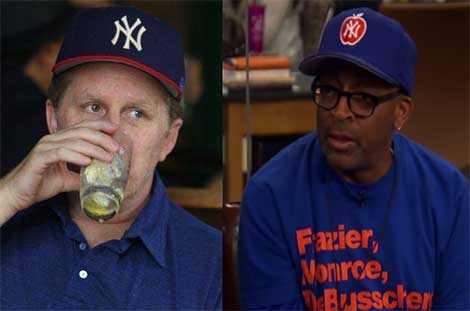 "Yo, you do Air Jordan commercials and all of that…put that into your film."
Not only is Michael Rapaport not buying the love Spike Lee professes for the poor people of NYC, he's calling out the 'Do The Right Thing' director for possibly using his gentrification talks to his own film budget benefit. Rapaport says he's already proven where his heart lies… explaining that he didn't make any money off of his Tribe Called Quest documentary, even though he put his own money into the film." Now, he's checking Spike to do the same.
"Spike likes to pop sh*t… Put your money where your mouth is, Yo."
You'll recall… Spike Lee's gentrification speeches sparked Rapaport to slam the director as a hypocrite. Know why? He says Spike shouldn't be talking about poor people in Brooklyn because he lives on Manhattan's Upper East Side, adding that it's good that once-abandoned neighborhoods have gotten better. Spike fired back calling Rapaport "stupid"… adding the actor "doesn't know what he's f*cking talking about"… and discounted Rapaport's talents as a director.
Here's the latest:
"The other thing about that little shit stain Spike is he's getting personal calling me stupid and all that shit…He thinks I'm a bad director? When's the last Spike Lee film you saw?," Rapaport asked host Marc Lamont Hill.

After Hill hesitated, Rapaport responded, "Exactly. That's my point. Nobody goes to see them shits. And that's why he was on Kickstarter. If Spike really cared about his movies. If he really wanted to get that movie made and it was a million dollar budget, put it up yourself. If you really believe in it, don't give away buttons and T-shirts from Girl 6. No one wants that shit, put the money up yourself. Take out a mortgage on your house. 

Spike likes to pop shit, but he doesn't like anybody saying anything back to him. And you know all that, 'You're stupid and the movie sucks,' I'm going to see him sooner or later. I want to see him say, 'You're stupid and your movie sucks' right to my face."