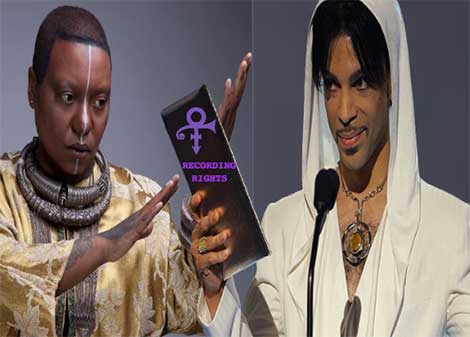 HSK Exclusive – Is Meshell Ndegeocello a woman who can't handle the truth? It sho nuff seems so! That's because she fired shots at Prince, whose recent OG Breakdown led him to not just "reach an agreement with Warner Bros., but also land the Purple Bandit full ownership rights to the music he recorded on the label, from 1978 to the mid-90's.
"The problems I had with so-called majors were regarding ownership and long-term contracts." ~Prince
This news come a dozen years after Meshell Ndegeocello openly admitted she was "considered a failure in the music business" by her label. That's around the same time Prince — who infamously penned the word 'SLAVE' across his face — checked Meshell, calling her a "house nigga". Know why? Because rather than joining Prince in his public revolt against their WB label, Meshell did nothing more than just rant. Don't believe me.. Just ask Material Girl Marge!
"Both Warner Bros. Records and Eye are quite pleased with the results of the negations and look forward to a fruitful working relationship." ~Prince
Check out Meshell's Twitter rant:





Here's what Warner Bros. Chairman and CEO Cameron Strang had to say about Prince's NEW DEAL:
"Everyone at Warner Bros. Records is delighted to be working with Prince once again: he is one of the world's biggest stars and a truly unique talent. We are also very excited about the release of new and remastered music from one of his greatest masterpieces."
Peep what Prince told Rolling Stone, during his revolt:
"People think I'm a crazy fool for writing 'slave' on my face. But if I can't do what I want to do, what am I? When you stop a man from dreaming, he becomes a slave."
Meanwhile.. Meshell Ndegeocello had this to say:
"Being considered a failure in the music business by my record company was a wake-up call. Those guys just don't have that much power over me.

I try to make my life the way I need it to be and not complain about what other people are saying to me."

Has Prince's revolt led him to also change the game? Of course! Know why? According to Billboard.. "his deal marks a new era as the ability to terminate master recording copyright after 35 years was granted in the Copyright Revision Act of 1976 and became effective in 1978, the year that Prince's debut album came out."