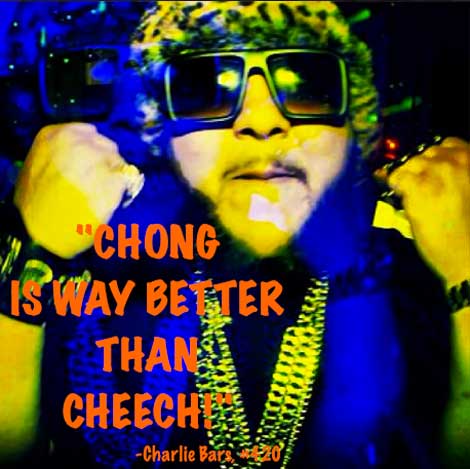 "Word is bond dude is legit! His tracks got some serious heat."
This Los Angeles music man has BEEN "In The Game" — Krayzie Bones is "Ridin" with him, Riff Raff joined him in "Picking Up Molly" and Kool G Rap joined forces with dude to tune-up their "Tiger Uppercut." His name is Charlie Bars, an emcee/music producer and Author, who's been repp'in West Coast rap since the 90's. Just ask his Trapzillas partna, Salazar.
"I'm going to takeover the World one beat and verse at a time…" ~Charlie Bars
Logic would be Charlie Bars, or at least one of the producer's personalities … like Ten Pill Shawty and Pete Flipper. But no matter which persona you're listening to, one thing's for sure … each of them is an old school Hip Hop head.
"Because I've got crazy personalities and I know if I try to wrap 'em all under one name people might think I'm too crazy. And I just like hip-hop and the idea of rapping as different characters is fun to me. It's like comic books."
Today, Charlie Bars has turned to Trap music to keep true Hip Hop alive. Know why? Does Trap music's combination of 808's, sampling and synths sound familiar to all you Hip Hop heads out there?
Check out how Charlie Bars breaks it down:
"Trap has sampled every genre, which is the exact same thing that hip-hop's been doing its whole life, so trap is just, to me, like a new version of hip-hop. People are trying to give it a different name 'cause it's so connected to EDM. And EDM's in love with giving stuff new names."
https://soundcloud.com/charliebars