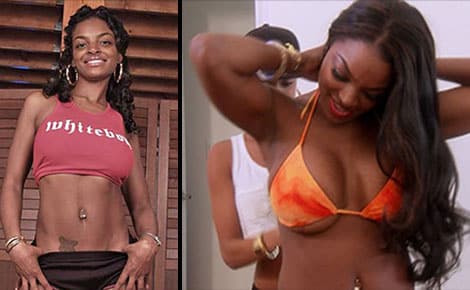 The Stats On Basketball Wives LA's Newest Addition!
HSK Exclusive – She may be Basketball Wives LA's newest cast member, but the only basketballs Brooke Bailey's close to are the ones she had implanted into her buttocks.
Sources say despite the 37-year-old urban model's claim to fame – being the exclusive lady in Vernon Macklin's life – Brooke Bailey, a single mother who has a habit of abandoning her three children, serves as nothing more than an L.A. jump-off to the 25-year-old power forward.
You may remember during Brooke Bailey's BBWLA debut, she announced she's exclusively dating Macklin – who she called a Detroit Piston. The problem is Bailey (a known habitual liar) seemed to have either forgotten, or simply didn't know, Macklin is no longer with Detroit and now plays overseas for the Turkish Basketball League.
Insiders reveal another problem with Bailey's claim to fame is that Mackin is currently dating a woman named Maria Tejada – a Miami native who sources say is pregnant with Mackin's child. That would make Bailey nothing more than a groupie, a paid-for whore, or just the other woman.
Serving as nothing more than a jump-off is something sources say Brooke Bailey is no stranger to. That's because insiders reveal the video vixen once played that same role for Miami Heat forward Rashard Lewis. HSK has learned during their relationship of convenience, Lewis would arrange for Bailey to accompany him as he traveled the country with the NBA. That's before Lewis dumped Bailey and married his baby momma, Giovanni Fortes.
Brooke Bailey's string of lies to land television time, while setting a superb example for her three kids as she sets out to land NBA dick, makes her a perfect character for Shaunie O'Neal to exploit. Don't you agree?