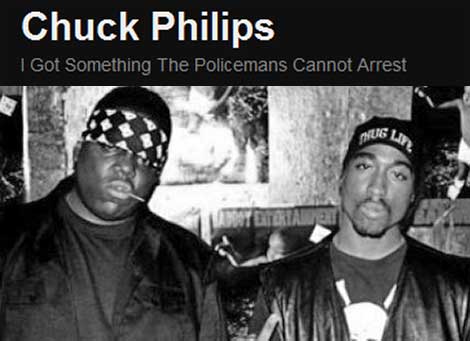 This is via Chuck Philips exclusive; commemorating the anniversary of 2pac's death, today September 13th.
R.I.P, as 50 says, enough of that shit. Raise a glass, hoist a flag and take a moment to reflect, on the passing of a true hip-hop dignitary: Eric "Von Zip" Martin.
Zip died August 27, 2012.
No disrespect to Chris Lighty, but everybody who's anybody in rap knew Zip: Big, Pac, Puff, Jimmy Henchman, Bumpy, Barry Hankerson, Frank, Janice, Melvin, Jekyll, Wolf, Buck and Big L. Global Music Corporations too.
In Death, as in Life, Zip made his exit in style, an impeccable suit, an ornate casket, a horse-drawn carriage, leading a star-studded procession up and down the streets of Harlem to Benta's Funeral Home.
With Lil Kim and Cameron among the celebrities gathered for the wake, many wondered whether Zip's favorite "Nephew" would show: that Bad Boy CEO of many names: Sean John Combs, Puff, Puff Daddy, P-Diddy, Diddy, Iamdiddy, Swag, Chairman Of The Board, and (who has recently started referring to himself as) Ciroc Obama.
Back in the day, Puff and Zip were tight, logging long days at Bad Boy and longer nights at Daddy's House. Although Diddy had not seen Zip in ages, he blew in to pay tribute to his "Uncle" – and said a few words in honor of the magnanimous OG who literally saved his life.
Not only was Zip the godfather of Biggie's son, he was a Harlem music aficionado who owned a nightclub on Adam Clayton Powell Jr. Blvd.: Zip Code. While his contributions to Bad Boy are unclear, he co-executive produced records with Puff's close friend, Czar Entertainment chief Jimmy Henchman and Blackground boss Barry Hankerson, including the soundtrack for "Exit Wounds," a film that starred Steven Seagal and DMX.
Following in the footsteps of his mentor, Ellsworth "Bumpy" Johnson, Zip semi-ruled Harlem's underworld on and off for decades. He knew every OG on the East Coast and practically every new kid on the block across the nation. Zip drove a bulletproof Mercedes, operated offices on both coasts, and moved effortlessly in and out of both entertainment and underworld circles.
In fact, it was Zip who introduced Puff to the Southside Crips, a formidable street gang based in Compton, CA, with whom Zip had operated a profitable pharmaceutical business for nearly a decade. A fortuitous introduction indeed.
The Crips came to the rescue when bad blood broke out between Bad Boy Entertainment and Death Row Records, where Suge Knight employed Compton Blood gang members as bodyguards. (Crips and Bloods have long been mortal enemies and warring factions.)
The Crips say Zip worked out a deal with Puff for the gang to guard Bad Boy whenever they traveled West. The shot-caller of the gang has intimated that the arrangement commenced in Anaheim following a 1995 Jodeci concert.
Bad Boy partied with the Crips in Vegas, the gang says, after Mike Tyson's 1995 prizefight with Peter McNeeley. Members of the gang attended West Coast recording sessions and, according to the Crips, Zip brought Big into Compton that year to check out South Park.
An argument erupted in March 1996 backstage at the Soul Train Awards. Crip gang members drew guns to defend Big and Bad Boy against Pac and his Death Row Blood bodyguards. A fierce standoff ensued, but no shots were fired.
The Compton Police Department, LAPD, Las Vegas Police and FBI conducted an early morning raid in Compton in October 1996, locking up dozens of Crip and Blood gang members. According to the search warrant, the cops were trying to quell a gang war sparked by Pac's murder. Some of the Crips arrested in that sweep, the cops alleged, had provided protection for Bad Boy.
According to "Murder Rap," a book published last year by ex-LAPD Det. Greg Kading, a Crips shot-caller said Puff offered to pay the gang $1 million for the murders of Suge and Pac. Puff allegedly ordered the hit after dinner at Greenblatt's Deli on Sunset Blvd, according to LAPD records.
The Crips shot Pac Sept. 7, 1996 in a drive-by about a block from the Las Vegas Strip following a Mike Tyson/Bruce Seldon championship bout. (He died 9/13/12.)
Six months later, Biggie was gunned down in an identical drive-by outside the Petersen Automotive Museum, about a block from the Los Angeles County Museum of Art.
Several witnesses inside the Petersen party told police they saw Southside's shot-caller approach Puff and ask if he needed security, after which they saw him approach Lil Cease, and ask the same question. Witnesses then saw the shot-caller approach Biggie, who told his bodyguard to let him through. "He's cool. I know him," Big said. The two spoke briefly. Moments after leaving the party, Big was murdered.
Zip was at both crime scenes. With Foxy Brown at the MGM, when Pac got lit up. With Keyshawn Johnson on Fairfax Avenue, before Big wound up in the morgue.
These are facts you won't find on Sean Combs' Wikipedia Page.
Zip is mentioned nowhere. And he's not the only omission. The almost Forbes billionaire photo-shops out every undesirable who helped pave his way to fame and fortune – no matter how important a role they played.
Unlike you and me, Diddy need not be defined by pesky inconvenient facts. In the tradition of a cheesy Bad Boy B.I.G. repackage, Diddy "re-mixes" his past to remove socially unacceptable figures as Uncle Zip, as well as recently convicted crack kingpin James Rosemond, AKA "Jimmy Henchman" – a long-time friend and business associate.
Diddy History deletes any reference to his former best friend, murdered felon Anthony "Wolf" Jones, and incarcerated elementary school buddies and business partners Corey "Buck" Jacobs and Kenneth "Big L" Kemp, as well as Black Mafia Family drug lord Demetrius "Big Meech" Flenory.
In Diddy History, many ex-friends, like many ex-Bad Boy artists, simply do not exist.
Zip was very much alive the day he called me 15 years ago, out of the blue, after I wrote his name in an article about B.I.G's stalled LAPD murder probe. He didn't like the piece, and let me know.
Zip and I first met in 2000, on a brisk winter evening in Manhattan. I offered to buy him a drink at The King Cole, my favorite bar. As I waited for him to arrive, my cell rang. Zip asked if I could meet him out front of the St. Regis instead.
The second I walked through the door, a tricked-out Escalade rolled up, with Zip behind the wheel, decked out in a plush full-length mink coat and matching pork-pie hat. The passenger window rolled down. Zip signaled for me to jump in.
We drove around Manhattan, talking through our misunderstandings, listening to music, discussing art, crime, and the quality of California hemp. Zip stopped at a liquor store, bought some provisions, and kept driving. An hour later, he dropped me back at the St. Regis. We shook hands, and off he drove, down 55th Street.
Over the next 10 years, I took the A Train up to Harlem every time I traveled East. One evening, at Zipcode, over scotch, Zip bitterly complained about how Puff had stabbed him in the back – for no apparent reason, just abandoned him, kicked him to the curb, as if Puff suddenly got Altzheimer's. "Look, you come all the way from California. 3,000 miles. You make a point to stop by and see me," Zip said. "Puffy has never once set foot in this club.
Zip's health deteriorated swiftly. He spent years in and out of the hospital, battling cancer. Plus, he suffered incapacitating bouts of severe back pain, following a serious car accident, in which he had been rear-ended.
Last week, artists, cops and criminals across the nation were abuzz about Zip's passing. One infamous, wise ex-colleague summed up the situation, succinctly:
"His secrets die with him."
For the record, I sent Combs a dozen questions on Friday regarding Zip and their long-standing relationship, and the story I was writing. On Monday, Combs' spokeswoman Keesha Johnson, vice president of DKC Public Relations, informed me that Sean was not available for comment.
Chuck