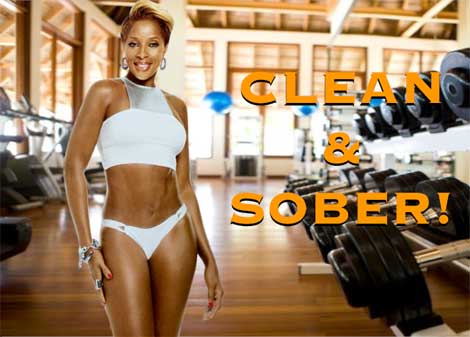 If anyone has learned from Whitney Houston's fateful journey, Mary J. Blige has. That's because the Queen Of Hip Hop Soul has revealed Whitney's death scared her azz straight … literally!
"Whitney Houston's death really crushed me. I saw someone so incredibly talented just diminish, and I refuse to go out like that."
Now, Mary ain't 'Goin' Down' anymore … Proudly professing she's not only back in the gym, she's also been sober for "a year and three-months." This, about a year and nine-months since Whitney Houston's death, February 11, 2012.
"I haven't had a drink in a year and three months. I had quit for a long time but started again about five years ago.
I'm off it completely once more, and now I feel stronger than ever!"
Here's what Mary J. Blige told Shape Magazine:
"I used to think I was ugly. But that is the result of self-hate. As you age, your body really wants to hold on to extra weight. I wanted to be fit forever. Unfortunately, as I got older, I found it was harder to maintain. The treadmill is fine, but running outdoors gives me the best results.

I hate being out of shape! But I don't exercise just to lose weight. It makes me feel better when I get that run in. I could be in the worst mood, but when I do my cardio I feel much, much better.

I beat alcohol dependence and drug addiction. I started at 16 years old. By the time I got into the music business, it was bigger than me.

I'm praying, meditating, and being honest with myself. It's not easy, but at the end of the day, if it's not healthy — or if it's killing you–you need to see the truth and stop. Others may be able to drink and have a great time, but it doesn't work for me at this point."