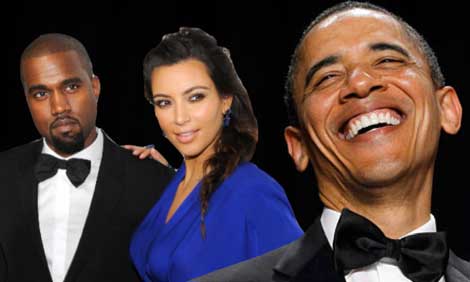 Kanye may have been in Philly when he went in on Obama, Monday, but he damn sure wasn't showing The Pres. any brotherly love during his radio interview with 107.9!
"I don't care if someone's the President or not. I care about thoughts and how you helping people and what you bring to the world." ~Kanye West
Okay, so there is some sense to some of what Kanye said. Know why? Because Yezzy didn't only blast Barack Obama, he also admitted the then-Illinois Senator "used" him to endorse his campaign for Presidency. You'll recall that's before President Obama called Kanye "a jackass" at MTV's 2009 VMA's.
Check out what Kanye had to say:
"Oh, you talking about how he use to come and visit me and my mama and tell me that he's about to run for President? I just think that we're pop icons, and the President likes to use that type of thing just to be down and stuff. People was fine with me being everyone's punching bag for about five years — Man, this is the person we love to hate, so if you want to distract people from everything that's going on […] just say you hate Kanye and there's going be 30 other people who say they hate Kanye.' That was kind of my position in culture so he also used that too — 'Oh, he's a jackass' — because that's how the world felt."
But the second Kanye brought his baby mamma's name into the equation, dude lost me. Know why? Because … how can any sensible person take anything-Kardashian seriously? Don't you agree?
Here's Kanye defending Kimmy Cakes' honor:
"Well I feel like he shouldn't mention my baby mama name…You know, we both from Chicago, and you know…"
Did that statement prove Yeezus' soon-to-be momager-in-law was behind door number one, during this Obama-based pub plot? Of course! Just ask Bruce Jenner.
http://youtu.be/UPTZ01Tq_6w