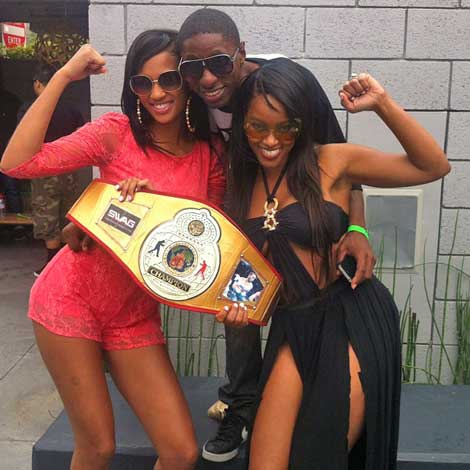 Birds of a Feather Flock Together!
HSK Exclusive – BBWLA's Malaysia Pargo has come a long way from her groupies night out days, which led to her landing a basketball husband.
The former video vixen – who played the prostitute in the video for "Jesus Walks", and pool whore in the video for "Splash Waterfalls" – may now leading the life of a high class homemaker, Malaysia Pargo's BFF's prove that 'high class' persona is nothing but a facade.
Here's what an insider had to say about Malaysia Pargo:
"How high class is malaysia with ratchet bff's like Bambi and Krystal?

Krystal, who played her sister last season, is really just her best friend who served as Malaysia's wing woman, back in the day – on nights they headed out to search for ballers.

She even lived with Malaysia when Malaysia's husband Janero played for the New Orleans Hornets, and was f*cking Chris Paul's brains out. Funny how Chris was in a relationship with his current wife, who Malaysia was friends with.

Malaysia also tweeted congrats to Chris Paul and his wife on their wedding day and some think she even attended. Wonder if Krystal was there as well."
Is Malaysia acting as a 'Susie Homemaker' while playing madam to Krystal and Bambi. Of course she is! Just ask Chris Paul…