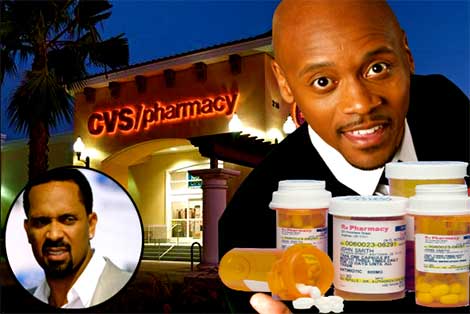 HSK Exclusive – The Atlanta man who recently went in on Mike Epps — with that video "parody" that clowns the comedian with coke jokes — is being exposed for plotting to get into Epps' pockets!
According to our sources…  Robert Powell  "has been provoking Mike for months to get a rise out of him." So what's the connection between the parties? Apparently, Epps lent  Powell,  a lane to help put him on and when Epps kicked Powell off the tour…Powell's BFF Lavar Walker wanted  revenge.
"Powell was the comedian he took on the road, trying to help him out with a jump start. Powell's boyfriend Lavar, wanted revenge against Mike after he kicked Powell off the tour."
The dirt we've dug up reveals Lavar to be a "shady" CVS pharmacist, supposedly stealing scripts to sell on the streets.
"Lavar works at a CVS in Camp Creek Parkway," says a source. It's a situation that Lavar's said to be looking to land a ticket out of… leading homey to pull the recent media play against Epps.
Dig the Drop:
"Saturday night… and Uptown Comedy Corner Club… Lavar stepped to Mike talking smack and he reached into his waistband, acting like he was getting ready to pull a pistol. Bystanders acted immediately to protect Mike.

Lavar is lying about his injuries because everybody saw him walking around after he had the scuffle with the bystanders… once the ambulance pulled through, Lavar was laying on the ground…. he even asked for a neck brace and took selfies at the hospital."