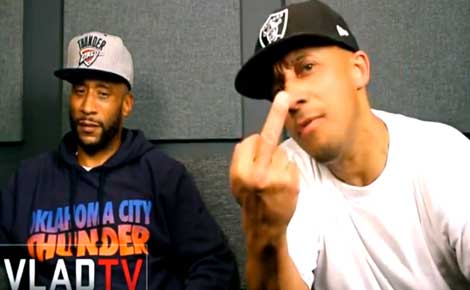 Lord Jamar can't stop, won't stop spreading his conscious word! Know why? Because the OG Brand Nubian is fed up with what Hip Hip has become … and can't take its gay agenda anymore!
"This Hip Hop sh!t was made by Masculine Black and Latino Males.This is Alpha Male sh!t! Not even the Beta male, who they're pushing at us now … your Drakes' and your fukin' Kendrick Lamars' and all these type of softer type of dudes …" ~Lord Jamar
That's why the OG emcee brought his homey Star [of NYC's Power 105.1's former "Star and Buc Wild Morning Show"] to the table to expose the "gay" plot being pushed unto the Black community.
"Marry a f*cking squirrel if you want to, I don't give a fuk! But just don't promote the gay agenda as if it has more merit than the f*cking Black holocaust. Slow your f*cking role!" ~Star
Here's what Lord Jamar revealed about Drake to DJ Vlad:
"He can rhyme and all that but trust me, he wouldn't have popped off in the 80's or 90's. Dudes woulda looked at him as too soft. All that falsetto singing and all that type of shit … dudes woulda been like, 'What the Fuck?!"


He can rhyme his ass off and sing and all of that, but does he represent the Alpha Male? No. Is he the type that you could see on the block, running some shit? No. Was he one of them dudes running around the hood, got his name ringing bells and all that type of shit? No."
Check out how Star broke down the "gay agenda" to DJ Vlad:
"95 percent of the males on the planet are not men anyway … You Black males, acting like Tyson Beckford … out there so quick to do some foxy and homo shit to stay live and stay relevant. And let me just say to Tyson Beckford, Fuk You!


You have to stop and think about the Black struggle in this country and what the Black family has gone through. The people who got you to this point were hosed, beaten, lynched, castrated and set ablaze. Nothing … surpasses the Black struggle."
#NuffSaid