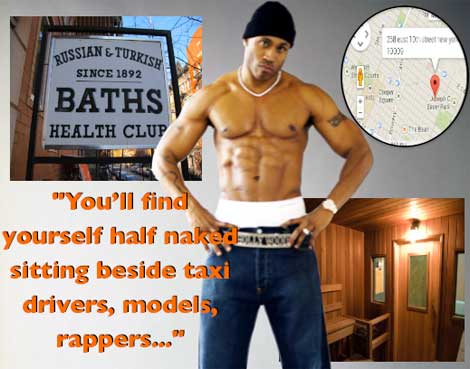 "It's a magnet for models, hardcore yoga folks, and various local freaks. It's funky and kinda smelly." -Anonymous
HSK Exclusive – We've learned the dirty drop surrounding one East Village bath house, said to be a spot frequented by LL Cool J! Our tipster tells us.. 'Russian & Turkish Baths Health Club' – located at 268 East 10th Street, between First Avenue and Avenue A – isn't just a spot where secret 'isims' go down, it's where industry deals are really sealed! Don't believe me.. Ask Lyor Cohen.
We're told LL Cool J gets Hard as Hell at the bath house.. so much so that LL's head shot [no pun intended] is said to be just one of the "photos of the bath's biggest celebrity fans ..covering the walls in the cafe upstairs." 'The Baths' are reported to be 'co-ed' but sources reveal Thursdays and Sundays are restricted to MEN ONLY. Just ask co-owner, Boris!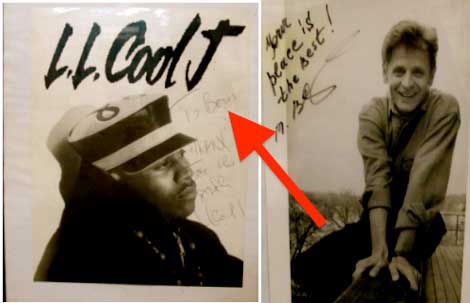 Here's what our tipster exclusively tells HSK:
"LL ain't the only one he's been a Queen. LL was already on, he was hot when my homeboy calls me one day and was like, 'Do you know what's a bath house?" I asked him 'You really don't know?' He said he didn't. So I said to him, 'Okay, I'll tell you but first you gotta tell me why you're asking.' So he tells me that he got an offer for a job at the label and that he was told he had to meet the boss there. Then I told him, 'a bath house is where men go to have sex with men.' He was like 'Nah I'm not doin' that!' Come to find out my homeboy ended up working at the top of the label."
Here's what some 'Russian & Turkish Baths Health Club' patrons, who've kept their identities private, had to say about the spot:
*******
"I never went there looking for sex and refused participation on the rare times I saw a circle jerk starting or someone grabbed me.. which happened a few times."

*******
"I am a girl… I think I almost got a HAPPY ENDING massage from a HOT muscular Russian guy"

*******
"A guy named Vladimir used to worked there giving massages and he'd offer to jerk you off. They fired him during the purge. The men only days – Thursday and Sunday – get packed with gay guys looking to get off on the sexual tension of walking around naked without being able to do anything. However, I've caught guys there wanking a few times. Some weeks the steam room checkers are super-zealous. Other weeks they don't give a shit at all.They have a weird set-up. Two different guys own it – Boris and David. They hate each other so each has their own week where they run it.I still go when I'm hungover to drink a beer, steam and smoke weed on theroof. I've seen everyone from Colin Farrell …to Karlie Kloss hanging out there. Oh, and I saw Chris Noth too." -Anonymous