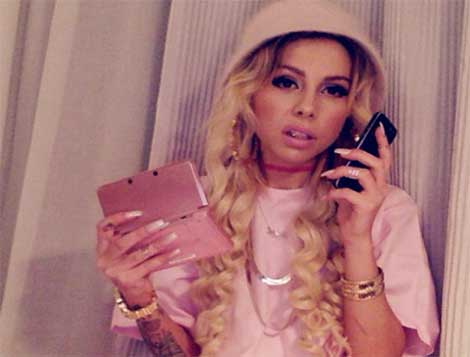 Lil Debbie, founding member of the White Girl Mob, shared her thoughts on two of her female rap counterparts. The California native was asked about Nicki Minaj and Iggy Azalea in a recent interview, and Debbie had plenty to say about both Billboard charting artists.
After pointing out that commercials that incorporate Iggy's megahit "Fancy" only use the chorus of the song and not her verses, Debbie states how she would like to see more from the Australian performer.
"It's kinda like Iggy's popping now, but you know my thoughts on Iggy – beautiful girl, looks great, stunning. Her voice irritates the f**k out of me. I'm waiting for Iggy Azalea to put out one song all by herself that's a hit. All the way through. With no features. With no singers. With nothing. I wanna hear it. I'm excited. You're a fine, white b***h and you're getting shine. So, hold it down for us and put out something really catchy. All the way through. With nobody else on it."
When it came to Nicki, Debbie contends that she gets more attention over Iggy, but Deb does feel that Nicki's perceived shot at Iggy over ghostwriting allegations at the BET Awards was from a position of weakness.
"I feel like Nicki did it because she might have felt a little threatened. It made Nicki look a little weaker taking a shot at Iggy. Do we even know if that was really for Iggy? Was it for Iggy? I don't know. When I saw it I was like, 'Is she taking a shot at me? Are you talking about me, girl?' Because not everything is written by you, but it's cute. I respect it. I think a lot of majority of Nicki Minaj's s**t is written by her. Probably like 90 percent."
Debbie actually admits that she does not write all her own lyrics. She then questions why is it acceptable to have writing assistance in other genres of music and not in rap.