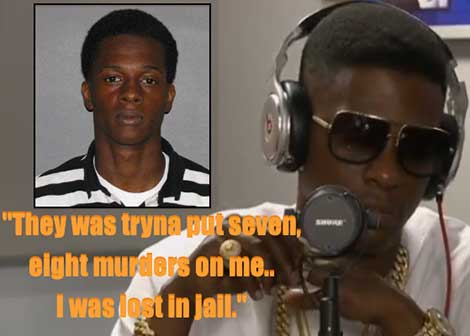 HSK Exclusive – We've uncovered what could be questionable details surrounding Boosie's recent release from the tank. From what we've gathered, those details seem to add up to Torrence 'Boosie' Hatch — a repeat offender — as a singerrrr, rather than a rapper! Just ask District Attorney Hillar Moore.
"Lil Boosie's lawyers subpoenaed Michael Louding to testify on Lil Boosie's behalf after repeatedly trying to get Louding on the stand."
That's just the first of many red flags waving over the October 21, 2009 shooting death of Terry Boyd — the victim, and uncle to one of Boosie's seven kids — at the center of the murder wrap the rapper was cleared of. Now — less than two-months after Boosie's May 6, 2014 release — The streets are talking! Hovering hints seems to be filled with suspicions of Boosie possibly sealing a cooperation deal. To be sure.. Court docs name 'Boosie' Hatch as the orchestrator of Boyd's murder… said to have used $25-rack$ to lure and recruit a then 17-year-old Michael 'Marlo Mike' Louding to complete the hit.
"UNDER LOUISIANA LAW, A PERSON THAT OFFERS OR PAYS SOMETHING TO MURDER SOMEONE IS AS LIABLE AS THE PERSON WHO DOES THE ACT AND CAUSES THE MURDER."
Here's how a source says Boosie pulled through to his own first degree murder trial:
"He walked into the courtroom wearing an expensive pair of Adidas tennis shoes, instead of prison-issued sneakers. There were about 12 deputies with the East Baton Rouge Parish Sheriff's Office surrounding Lil Boosie while he was in court. Prior to the plea, the judge refused to remove District Attorney Moore from the case and said that the search warrant on Lil Boosie's house stood. After the plea, the judge denied a second warrant suppression.

"Louding was accused of six separate murders. Prosecutors said Louding told them he was hired as a hit man
of six separate murders by Lil Boosie."
There are other findings which also don't add up — namely: dates, jail time and even charges! Between consistent media reports, and various court record… we've uncovered a wide variation of logging's pertaining to Boosie's initial sentence. On one side we have four-years. The other side? Eight-years. The Truth? Ten Years. As far as when the rapper was ordered to serve a decade behind bars — well that varies too. There's the widely reported September 20, 2011 sentencing hearing — said to have been the date when Boosie began severing eight-years after "pleading guilty to drug charges" — and then we have the real deal. That's according to a Baton Rogue reporter who followed the case from the jump.
"Hatch was handed a ten-year sentence in November 2009

[less than three-weeks after Boyd's murder]
after pleading guilty to a third offense marijuana charge, and later violating his probation. His lengthy wrap sheet includes marijuana possession, weapons charges, resisting an officer and aggravated battery."
Dig the Drop:
"On November 9th of 2009 at 9AM Hatch was sentecned and sent to prison. I caught up with Hatch the night before he was set to begin his ten-year prison sentence.. without his protection behind bars.. and you could read it on his face. Lil Boosie was scared."

Here's what Boosie told Ebro & Co. during Hot 97's morning show, Wednesday [April 23rd]:

"They was trying to put seven, eight murders on me. I was lost in jail and I caught more drug charges in jail. I needed to be high at the time, I'm fighting the death penalty. So I needed some kush, I needed some diesel.

Jeezy was there for me throughout..

I'm making music that they don't like.. and I'm living in homes, driving Bentley's and things like that. A lot of people don't like that. I think that made me a target. Then I said stupid things about the police and the D.A. so I dug myself a hole.

It's a lot of murders. It's a lot of cops that's not doing right, bad education…

I had to make some decisions but I feel like those dudes who got separated from me made they decision by not keeping it a hundred with me. The dudes who around me now, these my down from day one dudes and they solid.

For six/seven years straight I used to give out like five turkeys every Thanksgiving, back to school supplies, 10,000 bikes every Easter…

I'm back out here, I'm traveling, I've done like four/five shows and I've sold every seat. I don't have any regrets in life, everything I did.. it is what it is.

Sometimes you gotta network with people you don't like if the money right.

I gotta go piss like once every month… can travel in the country… I got like three to four years (probation and parole) and after a year I can go for reconsideration…if I don't get in no trouble I can get it expunged off my record."
Here's a snippet of the Judge Trudy M. White's address to Terry Boyd, during the 20-year-old convicted murderer's sentencing hearing:
"WHEN YOU ASSOCIATED YOURSELF WITH LIL BOOSIE, YOUR PIPELINE TO PRISON WAS JUST ONE WRONG TURN AWAY. YOU WERE ATTRACTED TO WHAT YOU PERCEIVED TO BE EASY MONEY. BOOSIE INFECTED YOU TO SUCH AN EXTENT THAT YOU CONTINUED TO FORFEIT YOUR ASSIGNMENT TO GET AN EDUCATION.

WITH NO FAMILY MEMBERS THAT YOU LET GUIDE YOU, WITH NO POSITIVE ROLE MODELS THAT YOU CHOOSE TO EMULATE, WITH NO POSITIVE MENTORSWHO REDIRECTED YOUR PATH, YOU WERE HEADED FOR PRISON.

WHEN YOU LEFT BOOSIE'S RESIDENCE, AFTER HE ANNOUNCED THAT HE WOULD PAY $25,000 FOR A HIT ON TERRY BOYD, WHY WERE YOU SO ANXIOUS TO COLLECT YOUR WEAPON AND LEAVE FOR ANOTHER PAY DAY?

THE BOOSIE DISEASE CONTAMINATED YOU AND SEVERAL OTHERS IN OUR COMMUNITY. THIS DISEASE CONTRIBUTED TO A NUMBER OF MURDERS IN THE BATON ROUGE AREA.

YOU CAUGHT BOOSIEITUS, AND THAT DISEASE WOULD BECOME YOUR DEMISE.

YOU TESTIFIED IN BOOSIE'S TRIAL THAT YOU LIED IN THE VIDEOTAPED STATEMENT YOU GAVE TO THE POLICE. WHEN YOU RECANTED OR RENOUNCED YOUR PREVIOUS STATEMENTS, IT CONTRIBUTED TO BOOSIE'S ACQUITTAL FOR TERRY BOYD'S MURDER. NOTE THAT I SAID ACQUITTAL. BOOSIE WAS NOT FOUND NOT GUILTY.

ADRIAN PITTMAN TESTIFIED THAT HE WAS PRESENT ON THE DAY THAT BOOSIE OFFERED $25,000 FOR THE HIT OF TERRY BOYD. THE EVIDENCE SHOWED THAT ON OCTOBER 21ST, 2009, AT 12:45 A.M. IN THE SHADOW OF DARKNESS YOU, MICHAEL LOUDING, SHOT THROUGH A WINDOW AT 16837 VERMILLION DRIVE AND KILLED TERRY BOYD.

THE EVIDENCE SHOWED THAT BOOSIE PAID YOU $2800 FOR THE COWARDLY ACT OF KILLING TERRY BOYD. IN FACT, YOU STATED IN YOUR VIDEOTAPED STATEMENT THAT THE $2800 WAS PAID ALL IN TWENTIES.

IN YOUR VIDEOTAPED POLICE STATEMENT, MICHAEL, YOU ADMITTED TO BEING INVOLVED IN THE MURDER OF CHRIS NUSSIE JACKSON ON FEBRUARY 9, 2009. YOU ADMITTED TO BEING INVOLVED IN THE MURDERS OF CHARLES NOKIE MATTHEWS AND DARRYL BLEEK MILTON ON APRIL 1ST, 2010. YOU ALSO ADMITTED TO TAKING PART IN THE MURDER OF MARCUS GANGSTA THOMAS ON APRIL 25TH, 2009.

YOU STATED IN YOUR VIDEO STATEMENT THAT BOOSIE NOT ONLY OFFERED BUT PAID MONEY FOR THE HITS.

IT APPEARS THAT YOUR EFFORTS TO ASSIST BOOSIE OR BOSS TO AVOID CONVICTION WAS HELPFUL TO BOOSIE BUT THOSE ACTIONS DID NOT HELP YOU AVOID CONVICTION.

WE NOW KNOW HOW MUCH YOU HELPED BOOSIE.

WHILE BOOSIE WAS ACQUITTED OF THE MURDER OF TERRY BOYD IN HIS TRIAL, BOOSIE WAS CONVICTED IN 2011 FOR BRINGING CONTRABAND INTO A PENAL INSTITUTION. HE WAS SENTENCED TO SEVEN YEARS. I DON'T KNOW EXACTLY WHEN HE WILL BE GETTING OUT. MICHAEL, WHAT I DO KNOW IS THAT WHENEVER BOOSIE GETS OUT, YOU WILL STILL BE INCARCERATED."
Take a look at the Court's transcript of Boyd's entire sentencing hearing: