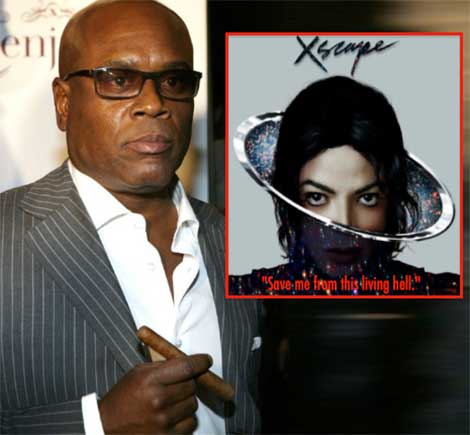 "Xscape comprises of a collection of tracks recorded before the singer's death and 'contemporised' by Epic Records boss L.A. Reid and a team of producers, including Timbaland."
It's looking like L.A. Reid has just stooped to an EPIC low. Know why? Because, out of "four-decades worth of material" by Michael Jackson, Reid — who's been revealed as being granted "unlimited access" to Michael Jackson's private "material" — chose to lead a posthumous MJ album with a track that could bring the darkest period of The King of Pop's life back into the limelight.
"We are extremely proud and honored to present this music to the world." ~L.A. Reid
That would be MJ's infamous 2005 trial that ended in with then-dubbed "Wacko Jacko" found 'not guilty on all counts' of child sex abuse. Today, the MJ's "leaked lyrics of child abuse" are suspected to have been recorded by Michael, "in a private response to the claims made against him".
"The new song, entitled Do You Know Where Your Children Are, tells the story of a 12-year-old girl who runs away from her abusive stepfather and turns to prostitution."
In the track, Jackson sings:
"She wrote that she is tired of step-daddy using her/Saying that he'll buy her things, while sexually abusing her… Do you know where your children are? Because it's now twelve o'clock/If they're somewhere out on the street just imagine how scared they are… Save me (from this living hell) Save me (cause I don't wanna know)."
Here's what L.A. Reid had to say to the press:
"Michael left behind some musical performances that we take great pride in presenting through the vision of music producers that he either worked directly with or expressed strong desire to work with."
Is the album slated to be released on or about the reported date that marks the time when MJ first met the alleged victim at the center of his 2005 trial? I'd tell you to ask $20-million dollar man, Evan Chandler… but he committed suicide back in 2009, five-months after MJ checked out. Just ask Rodney Jerkins.